Your wedding day holds great significance in your life and it is crucial that you make an impression with your attire. Let's look into the aspects of coordinating your appearance from head to toe with our bridal accessory checklist.
Choosing the Perfect Bridal Gown
Selecting the wedding dress is the first step in coordinating your bridal look. There are factors to consider when choosing a gown for your day such as:
Body shape: Are you blessed with an hourglass figure? Do you have a petite frame? In either case, opting for a form-flattering silhouette will accentuate your body type beautifully.
Style: If you're someone who feels uncomfortable revealing much cleavage in public, a plunging neckline may not be the best choice for you. However, if you enjoy embracing daring fashion statements this detail could be an option to complement your style, especially when paired with eye-catching accessories like statement earrings and necklaces.
Season and location: Consider the time of year and the location of your wedding ceremony. If it is during wintertime when most people are bundling up in coats or jackets outside anyway, or if it is summertime when shorts are the attire of choice for many, opting for simplicity might be the best decision.
Remember that finding the gown is not only about following trends, but also about selecting something that reflects your individuality and makes you feel confident on your big day.
Bridal Bouquet Selection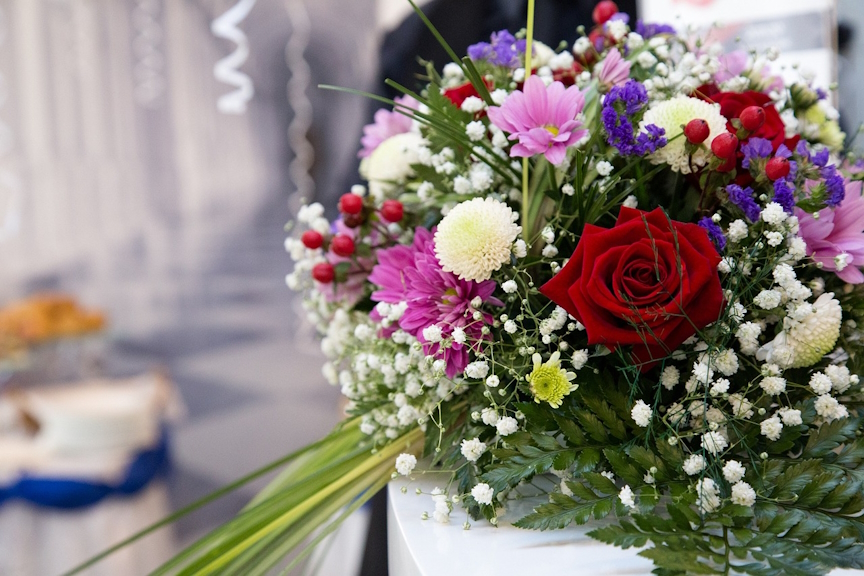 When it comes to selecting the flowers for your bouquet, there are factors to consider. First and foremost it's important to choose flowers that are currently in season. This ensures that they will be fresh and vibrant, without any signs of wilting or browning. You can receive same-day flower delivery in Brisbane from Flower Lovers so that you look perfect on your big day.
It's crucial for the flowers to complement both your gown and hairstyle. This means avoiding unconventional colors unless you're aiming for a bold look. Your wedding day should be a blend of fun and elegance, so make sure everything is coordinated perfectly.
And, take into account the location of the ceremony or reception when choosing types of blooms. Also, consider any themes that may be incorporated throughout these events, if applicable.
Hair and Makeup Harmony
Hair and makeup should complement each other. When selecting hair and makeup, consider your skin tone and facial features to find the best options. For a wedding, it's important to choose hair and makeup that aligns with the theme. If it's a garden party, opt for pastel shades. If you're having an evening reception at a castle, go for dramatic eyeliner and bold red lipstick. If you're having a ballroom affair with lots of sparkle (think: Cinderella), select a glamorous look that matches the occasion.
It's not necessary for bridal looks to match each other – it's about looking like two individuals who belong together rather than appearing as halves of one whole. However there are ways to coordinate without being overly identical; try using blush tones on both sides of your face pairing colors like navy blue eye shadow with coral lips, or choosing different textures for similar styles (such as curly, versus straight hair).
The Right Accessories
Accessories play an important role in completing a look. They have the power to enhance or detract from your appearance. It's essential to carefully consider your choices and how they harmonize with the rest of your wedding attire. Jewelry is always a must-have, whether it's a pair of earrings or an exquisite necklace matched with earrings. If you opt for an up-do hairstyle, be mindful that long necklaces can become entangled in your locks. To avoid any mishaps during photo sessions, it's best to remove them. Additionally, handbags and shoes should complement each other in terms of color scheme and style to ensure that no item clashes with another.
Footwear Fashion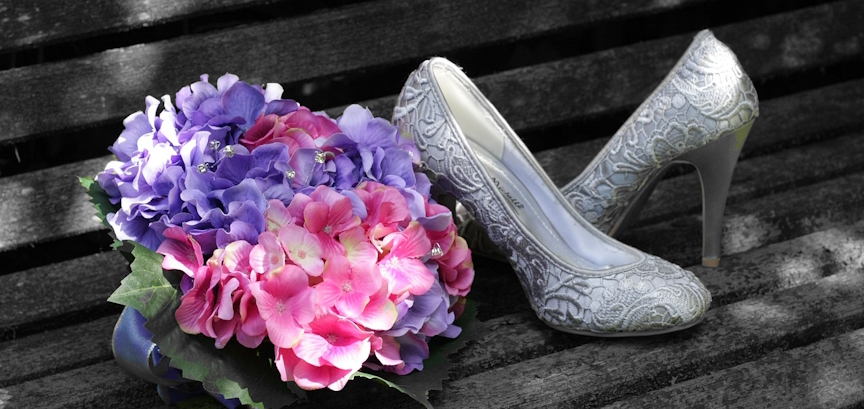 You might be thinking, "But I really want to wear heels! They're so adorable!" You know what? You absolutely can. However, it's worth considering that not every bride can effortlessly rock heels or even wedges. Take a moment to think about it; if you happen to be a bit shorter than your partner, would they appear awkward in their dress shoes? Do you have any conditions that make it challenging for you to wear shoes?
If the answer is yes to either of these questions, or if you have concerns about tripping over something on your day (or worst case scenario, taking a tumble), then perhaps it's worth considering an alternative footwear plan altogether. Opting for a pair of flats will provide both comfort and a chic stylish look. The added bonus is that they won't make anyone feel like they're towering above everyone else at the reception.
Groom's Attire Coordination
Make sure you coordinate the wedding colors perfectly. Also, ensure that the bridal party is well-matched. Take into account the weather conditions as well. If it's a wedding in summer or an indoor reception at night (or vice versa) make sure to consider the location and time of day. Additionally, think about whether you want your groom's attire to match something, other than what everyone else is wearing. You could consider an accessory or style choice that will make him stand out from his groomsmen. Be cautious not to go overboard.
Final Touches: Fragrance and Smile
Make sure to have a smile on your face! Smiling is infectious and can instantly uplift your mood for the day. Ensure you have a scent. Opt for a fragrance that's subtle enough not to overpower your appearance, yet noticeable when people come near you. Don't forget to put on your wedding ring(s). It holds significance not only as part of the ceremony, but also adds a beautiful sparkle to your photos. Take a moment to check and tidy up your nails. Make sure they are well groomed and free from any hangnails or chips. You wouldn't want them to detract from all the effort put into creating a bridal look.