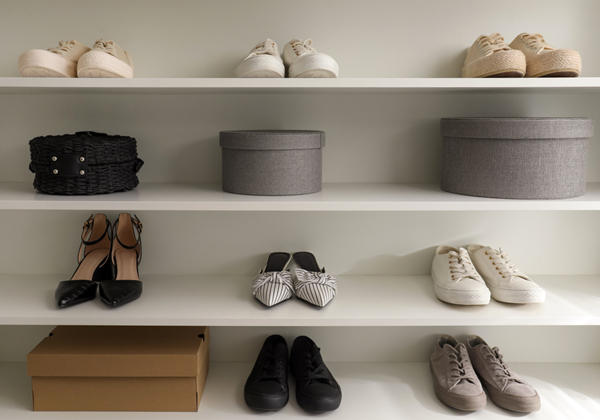 Capsule wardrobes offer a sustainable, minimal alternative that stands up to fast fashion and over-consumption on multiple levels. But for those who choose this minimal style closet, footwear can be tricky. After all, shoes are incredibly important in providing us support, comfort and style all day long.
Want to know how to build the ultimate capsule shoe wardrobe? From choosing washable shoes that stand the test of time and neutral color tones that complement all sorts of outfits, the right pair of shoes will get you farther than the newest trending kicks. In this guide, we will take your shoe-specific capsule wardrobe step by step.
Guidelines for Building a Capsule Shoe Wardrobe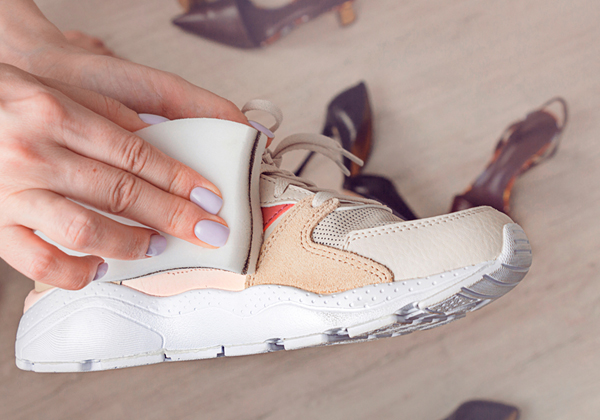 As you build your capsule shoe wardrobe, remember these basic guidelines. It's okay to stray from the guidelines listed below occasionally, especially if you find a pair of shoes you can't live without. However, these general rules will help steer you toward shoes that will work for a number of different ensembles that you will undoubtedly use time and time again.
Choose Comfort Above All
Whether it's a pair of cute, comfortable flats or comfy sandals, choose support and comfort above all! While we all want shoes that look stunning, if it's stilettos or boots that are too high or tight to wear for hours at a time, they may not be a great fit. Otherwise, they might wind up in the back of your capsule shoe wardrobe because you dread wearing them.
Pick Easy to Clean or Machine Washable Materials
Choose machine-washable shoes or footwear made with easy-to-clean materials. Athletic sneakers and hiking boots will always need freshening up, as will your dressier shoes, so stick to materials that will stand up to the elements. However, you can also find other shoes made with elastic and woven cloth-like outer materials that are even machine washable.
Aim for Versatile Shoe Styles
When you pick up a pair of shoes, ask yourself if they can be worn with casual and dressy outfits. A capsule shoe wardrobe consists of many versatile shoes that can be mix-matched with various ensembles — for example, pumps with jeans and a tee shirt or Chucks with a midi skirt.
Select Neutral Colors
As a whole, select neutral-colored shoes. Think black, gray, tan and similar shades. Of course, there is one exception to this rule, which we will discuss later. But, ultimately, you will find that neutral colors will pair effortlessly with the rest of your capsule wardrobe garments.
9 Capsule Shoes to Consider for Your Wardrobe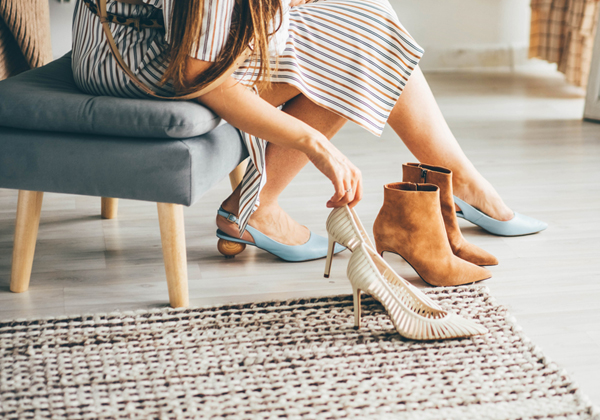 Now that you understand some basic guidelines in building a capsule shoe wardrobe, let's take a look at some classic capsule shoes that would be perfect additions (if you don't have them already).
1.     Strappy Sandals
A pair of strappy sandals is ideal for those sweltering summer months when you want to step out in style. Perfect for semi-formal occasions when a dress is warranted, or even with a flowing maxi skirt worn for a date night, strappy sandals can come in handy for many outfits.
2.     Slide Sandals
Slide sandals are another breathable, open-toe shoe style for the summer months. Show off your pedi when darting out for a quick errand, or throw them on paired with a skirt or pair of jeans.
3.     Ankle Booties
Casual and classy, an ankle bootie will take you far. Choose an ankle bootie with a slight heel that pairs with anything from a sundress to leggings to bootcut jeans and much, much more. For a classier look, go for a black leather bootie. For something more casual, tan or whiskey-colored booties pair nicely with a lot of ensembles.
4.     Knee-High or OTK Boots
Another must-have boot for your capsule shoe wardrobe is a knee-high boot or over-the-knee (OTK) boot. This shoe style is ideal from fall to spring and can give an equestrian rider-inspired look over leggings. They can even keep your legs warm when you want to wear a mini skirt on a fall date night. An attractive pair of rain boots can also double as a knee-high boot!
5.     Pumps or Stiletto Heels
A basic pair of heels is perfect for the workplace setting, date nights and even girls' night out. We recommend choosing pumps with a wider or medium block heel. However, if you love a sexy stiletto, that's okay, too! Whatever type of heel you choose, just make sure it fits comfortably and offers the support your arch needs.
6.     Sneakers
Choose a white canvas sneaker that complements lots of outfits. Sneakers can even be worn with skirts for a casual look out for morning brunch or swinging by the grocery store. If you require a more athletic sneaker, as opposed to a pair of canvas Chucks, then make sure they are easily washable, too.
7.     Flats or Loafers
Flats and loafers are great additions to a capsule shoe wardrobe. They are perfect for days when you plan to be on your feet, walking or standing for hours at a time. But flats and loafers can also be great for a professional setting or a day jaunting around town grabbing coffee with your besties. Ballet slippers lend an understated aesthetic.
8.     Slippers
While you may not wear them out of the house often, slippers became a staple during the pandemic. With so many of us working from home, a comfy pair of shoe slippers can elevate your WFH attire and keep your feet warm as you take a break to walk the dog.
9.     A Statement Shoe
Lastly, know that not every shoe in your capsule shoe wardrobe has to be a white or neutral. If you find colorful, bold shoes that you absolutely adore, chances are you'll find a way to wear them. Whether they are designed with animal prints, tassels or are just a favorite color, a statement shoe can liven up your capsule shoe wardrobe and make you smile.