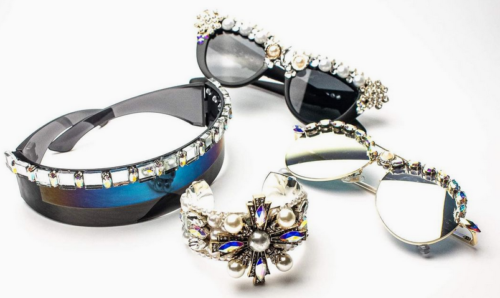 Luxury accessories designer Suzanne Houston Simms will make her debut at Couture Fashion Week New York along with fashion designer Doriana Rosca for the Waletty label. Part of the 37th season of the prestigious event, the show will be held at 4 pm on Sunday February 5, 2023 at the historic Prince George Ballroom in New York City.
Suzanne Houston Simms, a renowned fashion jewelry artist, is presenting her latest exclusive luxury eyewear couture and jewelry designs, a private signature collection called IC-Cocktails, under her Inspiritus Creations brand, in retro Hollywood glam and glory and Casino Royale style.
A native of Sweden, Suzanne was inspired by her parents from an early age in her lifelong interest in music, entertainment and fashion. After graduating from the Academy of Apparel and Fashion Design, she moved to New York City and attended the Fashion Institute of Technology (FIT). She went on to launch her fashion haute couture business specializing in hand painted silks for her luxury evening wear private signature collections. She picked up client accounts with casino boutiques in Las Vegas, as well as Saks Fifth Avenue and Hollywood celebrities.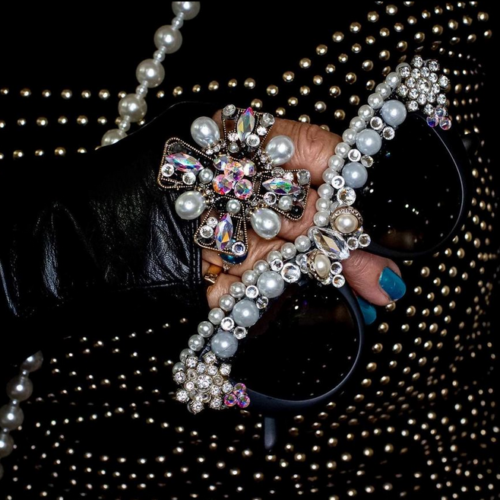 After returning to Europe, Suzanne worked in the beauty industry. Now back in the USA, she is based in Florida and is inspired by the wonders of nature and her spiritual beliefs connected to positive energy and love. Inspiritus Creations focuses on unique fashion statements of beauty and strength for powerful women, with bold and chunky "bling" style.  In her Florida art studio, Suzanne uses sparkling European crystal elements with mirrored cubes and plates creating 3D-effects mixed with pearls and the brilliance of colored glass crystals. Many of her creations feature the Maltese cross, expressing the artist's faith in Christ. Suzanne shares a story and message in each collection; recent collections are Mind Body and Soul, Blue Therapy, Sun Explosions, Pearls of Hope, Manhattan Skyline Windows, Mirrored Reflections and Gratitude and IC-Bijou pour les Yeux.
Inspiritus Creations has been featured in a bestselling music video by Robbie Rivera, as well as at Milan Fashion Week, and at major events in Paris and Stockholm.