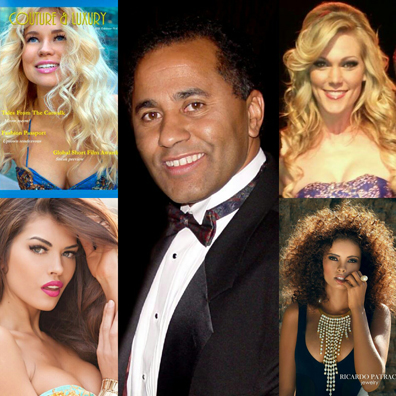 Designer and Couture Fashion Week New York founder and producer Andres Aquino will show his recent collection entitled "Romancing the Himalayas" at the Nepal Couture Fashion gala event. The show will be held at the Hyatt Regency Kathmandu on August 13, 2016. The event marks Mr. Aquino's first runway show in Nepal which will feature a selection of his signature luxurious, feminine and wearable gowns.
"I am looking forward to finding new inspirations in the stunning natural beauty of this Himalayan country, known as the rooftop of the world," says Mr. Aquino. He will be traveling to Nepal with four talented models: Belgica Suarez (Miss Honduras Universe), Sendy Caceres (Miss Paraguay Earth), Nea McClin from Finland; and New York runway model and stylist Kelsie McKenna. In Nepal the group will be joined by actress Shristi Shrestha (Miss Nepal 2012), Anjali Lama (1st Face of Panache Runway), Malina Joshi (Miss Nepal World 2011), celebrity model Aastha Pokharel, Puza Stha (contestant for Miss Nepal 2015 and Miss Talent 2015), tecno artist Anish Anand, actor Gaurav Pahari, and a number of models, celebrities and VIPS. International model, actor and entertainment executive Deepak Ghimire, whom Mr. Aquino met and worked with in New York on a special Nepal showcase, has been instrumental in organizing the Nepal event.
Couture Fashion Week New York will be entering its 24th season in September 2016 as one of New York's most prestigious fashion week events. Mr. Aquino is also the founder and director or the Global Short Film Awards, now entering its second year with events in New York and Cannes, France, among other cities.
The Nepal visit by Mr. Aquino and his associates will also include:
– The official signing of the Global Short Film Award Festival (GSF Awards) license agreement for Nepal.
– Discussions with government and business leaders on mutual cooperation to promote Nepal fashion and tourism, as well as to expand the fashion market for Couture Fashion Week New York in Kathmandu.
– Scouting for new talented designers and models.
– Enjoying the beauty and friendship of the country and people of Nepal.
The event is managed and organized by Everest Events & Exhibition Pvt. Ltd., a sister concern of Avenues Television. The main sponsor of the event is Jawalakhel Distillery (Ruslan Vodka). Thanks to Executive Directors Aseem Rana and Sanjeeb Pyakurel, Director Sambridhi Raj Karnikar, Rachana Gurung Sharma, Deepak Ghimire, Chief Program Coordinator Shrijana Pokharel and the staff of Couture Fashion Nepal, who are committed to making this year's show one that goes down in history.
More information: www.CoutureFashionWeek.com | www.GlobalShortFilmAwards.com | facebook.com/couturefashionnepal