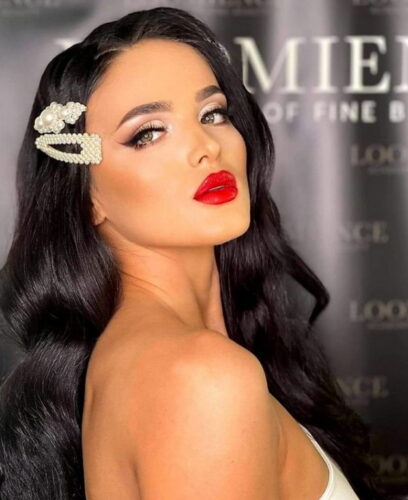 Top model and celebrity Daiana Canales will appear as a special guest model for designer Andres Aquino at his fashion shows in New York and Malaysia in February 2023. Mr. Aquino's latest couture collection is entitled "New York Fashion Symphony." On February 4, the fashion show will be held at 8:00 pm at the historic Prince George Ballroom in New York City, as part of Couture Fashion Week New York's 37th season. Then on February 25, the fashion show will be part of a festive gala event at the luxury Wyndham Acmar Klang Hotel in Kuala Lumpur, Malaysia.
"I am looking forward to working again with Daiana on these exciting events," says designer and producer Andres Aquino. "She is always on point, always a top professional. She was born to shine."
A native of Romania, Daiana Canales is the winner of numerous top modeling accolades including the Global Short Film Awards Cannes Best Model, Miss Summer World 2019, Miss Super Globe 2019, Top Model Universe Hungary 2019/2020, Miss Saint Tropez 2017, Miss Romania, Miss Tourism, Germany's Next Top Model 2018, and more.
Daiana has been featured in print ad campaigns for Jaggad Australia and Waletty in Germany, among others. She was featured in the popular reality TV show The Power of Love in Istanbul, Turkey. She has appeared in many major publications worldwide including Vogue, GLW Magazine, Unique Magazine New York, and Deamina Magazine in Milan.  Daiana has also walked the fashion runway at events such as New York Fashion Week, Couture Fashion Week New York, Dubai Fashion Week, the Venice Film Festival, Bucharest Fashion Week, Los Angeles Fashion Week, the Global Short Film Awards Gala in Cannes during the Cannes Film Festival, and others.
Daiana is an avid fitness buff, a professional fashion model full of energy with a killer smile and always positive attitude.
Click for New York tickets and for Malaysia tickets.