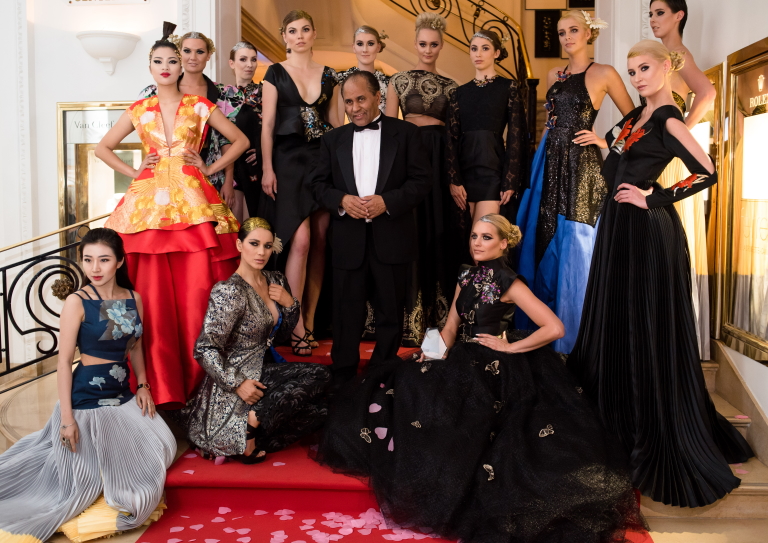 Award-winning fashion designer Andres Aquino will present his latest collection entitled "New York Fashion Symphony" at two prestigious events in February 2023, with the extraordinary creative journey spanning two continents. On February 4, the fashion show will be held at the historic Prince George Ballroom in New York City, as part of Couture Fashion Week New York's 37th season. Then on February 25, the fashion show will be part of a festive gala event at the luxury Wyndham Acmar Klang Hotel in Kuala Lumpur, Malaysia.
"New York Fashion Symphony" is a couture collection inspired by the sounds of New York City.  Mr. Aquino has created a series of surrealist and fantasy art illustrations that will be custom printed on fabrics creating unique looks. "Bringing together fashion and art marks a new direction in my creative journey," says Mr. Aquino " The designs embody a New York of my imagination, a poetic dream, if you will, of the capital of the world and beyond." Mr. Aquino designs exclusively one-of-kind and very limited-edition sophisticated and creative outfits for the red carpet, socialites, performers and other clients.
"I recently became involved in a number of exciting mining and technology projects, so art and fashion represent a delightful opportunity in a lighter and more imaginative sphere, Mr. Aquino says. "It is also a way to leave a cultural legacy while providing opportunities and making history with a team of other creative minds in the world of entertainment."
Both the New York and Kuala Lumpur shows will feature live performers, highly creative makeup and hair designs, and top international runway models, including Daiana Canalas from Romania, and Leyla Murugova from Tatarstan.
About The Designer
In addition to being an acclaimed fashion designer, Andres Aquino is an artist, poet, entrepreneur (technology and mining), theater director, and event producer. Often called the "Urban Renaissance Man", he is the founder and producer of Couture Fashion Week New York, one of New York Fashion Week's most prestigious events. He is also the founder of the Global Short Film Awards, entering its 8th year in 2023, with an annual awards film and fashion gala held during the Cannes Film Festival.
Click for New York tickets and for Malaysia tickets.