Global Fashion Avenue Awards
Couture Fashion Week is pleased to present the Global Fashion Avenue Awards recognizing excellence in fashion design and fashion modeling. Winners, finalists and sponsors benefit from increased consumer awareness, global promotion, and more.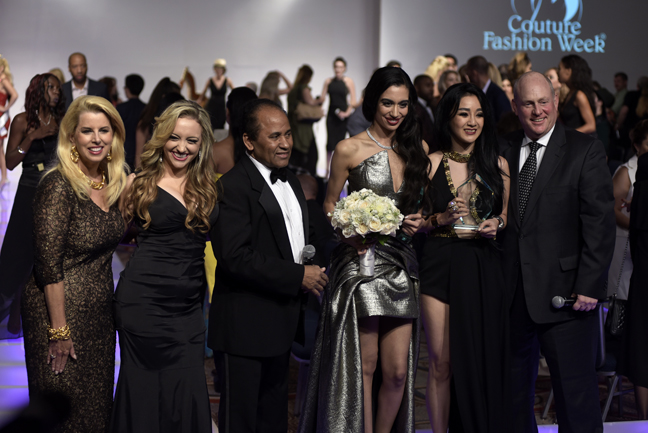 BEST DESIGNER
Winner Spring 2016: DIANA COUTURE by Diana Putri
Diana Couture presented a breathtaking collection entitled "Garuda" at Couture Fashion Week. The collection was inspired by the Garuda bird, symbol of the official philosophical foundation of the Indonesian state. Ms. Putri's artistry is focused on the custom bespoke side of couture, catering to the exacting demands of her clients. She is known for her distinctive use of both elegant and daring concepts balanced in couture designs. Diana Putri herself is an A-list designer in Surabaya, Indonesia, and she is now looking to expand to a more global market.
Photos of the show :: Video of the show
Attention Designers: All designers showing at the next Couture Fashion Week event will be automatically considered for the next award. Request a designer application.
---
TOP MODEL
Winner Spring 2016: FARAH ZULAIKHA
Multi-talented award-winner Farah Zulaikha is a beautiful and accomplished role model. She is the recipient of numerous and diverse accolades including the Distinguished International Humanitarian Leadership Award presented by the United Nations and the National Council of Women of the United States (2015), the Pancreum Diabetes Artificial Pancreas Research Contributor Award (2013), the Vassar Brothers Medical Center (a National Gold-Seal Winning Hospital) Auxiliary Young Ambassador (2013), the UGO.COM and Hearst Media's "Smartest Models In The World" list, taking the #1 spot on a list of the most legendary names in fashion including Cindy Crawford, Iman, Christy Turlington and Beverly Johnson (2011). She recently made her violin debut at Carnegie Hall before a sold-out audience and is an accomplished biomed researcher. Farah has appeared in prestigious fashion events and numerous publications including Elle and Vogue.
Attention Models: Models participating in the next Couture Fashion Week event can opt in to be considered for the next award. Submit a model application.
---