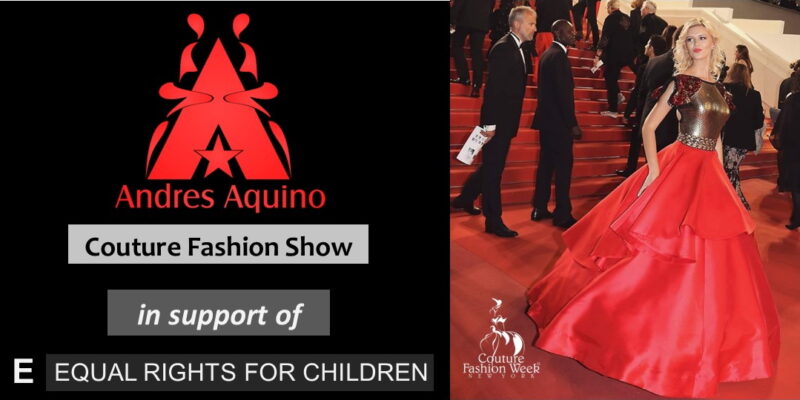 Designer Andres Aquino is pleased to announce his collaboration with Equal Rights for Children (ERC) in the upcoming fashion show presenting his latest collection entitled "New York Fashion Symphony". Part of Couture Fashion Week New York's 37th season, the show will be held at 8 pm on Saturday February 4, 2023 at the historic Prince George Ballroom, in the city's Flatiron District. The festive show will include musical performers, the expected participation of models Bea Alonzo and Silmara Ribeiro, Daiana Canalas and Leyla Murugova, among others, as well as the support of a growing list of sponsors.
Andres Aquino is the founder and producer of Couture Fashion Week New York. A fixture of the New York fashion scene, he is an accomplished designer himself, and has shown his designs at important fashion events worldwide including in Dubai, Nepal, India, Romania, Paris, the Dominican Republic and multiple cities in the USA. He is also the founder of the Global Short Film Awards, with an annual black-tie awards gala held in Cannes, France held to coincide with the Cannes Film Festival.
Equal Rights for Children is an active partner for the 17 sustainable goals under the United Nations on the Rights of the Child (UNCRC), with a special focus on mothers and children born out of wedlock and both of their legal rights. The non-profit organization's main goal is that no child is discriminated against no matter when, where, or how they were born. ERC was founded by Amadea Angela Aquino (no relation), and its Board of Directors includes boxing legend, humanitarian and former Philippine Senator Manny Pacquiao, and H.E. Ambassador Libran N. Cabactulan. The organization's supporters include UNIK Advertising, Nicole Miller, the Foreign Press Association, as well as the Philippine Mission to the United Nations which is also a partner in promoting children's rights and achieving the Sustainable Development Goals.
Couture Fashion Week (CFW) is one of New York Fashion Week's most prestigious events. It showcases the work of exceptional designers from around the globe. It is an important platform for fashion industry professionals, celebrities, and media attention, and has a reputation for presenting the latest trends and styles in the world of couture fashion along with delightful musical performers, makeup and hair styling by top industry professionals, red carpet, and after parties.
The upcoming show is a unique opportunity to raise funds and awareness for ERC's work and mission. The collaboration of CFW and ERC highlights the importance and value of working together to make a difference in the world.
Click for tickets and more information.
Please inquire for sponsor opportunities and include your name and website/social media: [email protected]