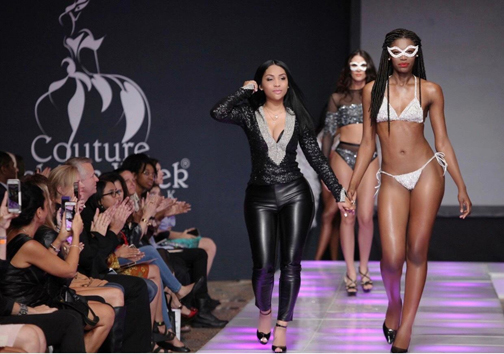 IngaSez will return to Couture Fashion Week New York with a showing of her latest collection entitled "Slee'Q by Inga." The runway show will be held at 8:00 pm on Friday February 15, 2019 at the 4W43 Building, 4 West 43rd Street (at Fifth Avenue) in New York City. (Please note the time change).
Inga Murray-Hodges is the creative force behind the luxury brand. "My fabulous new collection, Slee'Q by Inga, is born and it's better than ever!" says the designer. "My designs are inspired by a bolder Slee'Q look. These new designs are as sparkly, funky, edgy, and versatile as they are super comfortable." With her latest collection, Inga creates a sense of drama, playing with varying tones throughout the line, resulting in a happy, sexy, glamorous, fun and lively feeling. "I added charm to this line with a more accessorized look on each design simply by adding a crystal or sequined bow or a necklace that connects," notes the designer.
A joyous celebration of femininity, the collection comes in regular, petite, and plus sizes. According to Inga: "My main focus was concentrating specifically on the best parts of a woman's body shape, keeping in mind and understanding the types of clothes that accentuate good features and minimize our less than perfect bits. I will also be introducing some lovely new textures and fabrics, as well as signature prints while keeping things Slee'Q to complement our new range."
Click for tickets and more information.