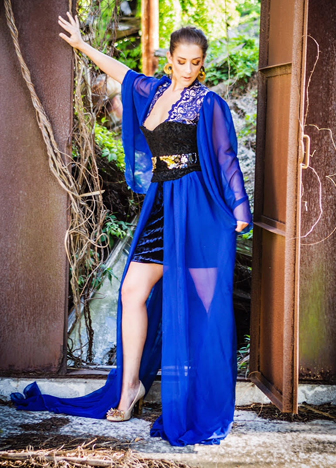 In her second appearance at Couture Fashion Week NY, Florida-based designer Nailuj Villarroel will present her latest collection on the runway at 6:00 pm on Sunday September 9, 2018. The fashion show will be held at the Crowne Plaza Times Square, 1605 Broadway, in the heart of the Big Apple.
A native of Venezuela, Nailuj Villarroel earned a degree in fashion design from the Monsignor of Talavera Fashion Institute in Caracas. For the past 16 years she has pursued a career as a fashion/wardrobe and costume designer in central  Florida, USA. She has worked at the three most important theme parks in the area: Disney World, Universal Studios and Sea World. She supervised the costume shops of well-known local production companies Metropolis Productions and World Gate Entertainment, including working on such projects as the "Living Statues" for Disney Springs and Epcot, and the Give Kids the World Gala, among other important events.
Nailuj also worked as wardrobe designer and producer for the "365 Tiempos Decisivos" film by Golden Brothers Productions, directed by Ariel Santiago. In addition, Nailuj has presented her designs on various local, national and international fashion runways including Winter Park Fashion Week – Emerging Designers Contest, Orlando International Fashion Week, Discover Your Beauty Fashion Show, Car & Couture Fashion Show, Fort Lauderdale Fashion Week, Couture Fashion Week New York and Dominican Republic Fashion Week. Nailuj has also served as an Exclusive Fashion Designer for Little Miss Universe and other beauty pageants including Miss Puerto Rico US, Miss Mundo Latina, Miss Central Florida USA, Miss Hispana International, and Miss Iberoamerica.
Nailuj was honored to dress Angel Lopez for the Premios Lo Nuestro 2018, Ivy Queen (Puerto Rican Regetton Performer), Migbelis Castellanos Miss Venezuela 2013, and Tatiana Liary for the Latin Grammy Red Carpet 2015, as well as the pop duet Sykno when they were nominated at the Latino Fama Awards in New York in 2017. She also made all the stunning flags, by special request, that were shown during the opening of the Latin Grammys for the Residente "Hijos del Canaveral" performance.
Nailuj Villarroel currently manages her own company, Ian Productions, Inc.,  where she designs and produces haute couture costumes and garments under her own brand for special events like the Latin Grammys and the Premios Lo Nuestro. She is also a member of the Advisory Board of the Fashion Institute in the Orlando area, and serves as a mentor to several up-and-coming design students as they build their careers. Nailuj is an Ambassador of the Orlando Fashion District and Fashion Editor for their online magazine. She looks forward to the day that Orlando becomes a major fashion hub.
She will soon launch the website www.nailujvillarroel.com which will offer online shopping for her new clothing lines, Nailuj Villarroel Couture and NAILUJ-JULIAN, for women and men.