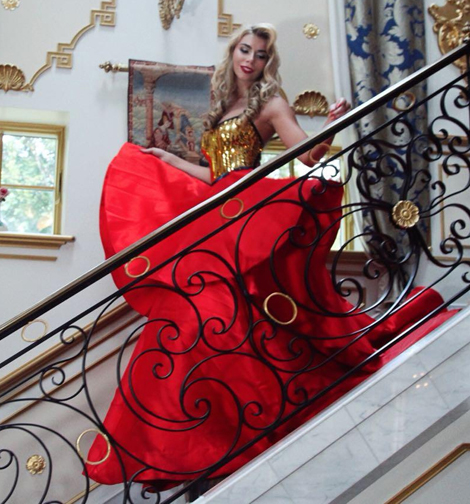 Producer, designer and entrepreneur Andres Aquino will present his latest collection entitled "Tango Cabaret" on the runway during Couture Fashion Week New York's 28th season at 8:00 pm on Saturday September 8, 2018. The fashion show and entertainment spectacle will be held in the Broadway Ballroom of the Crowne Plaza Times Square, 1605 Broadway in New York City.
The beautiful "romantic couture" collection is inspired by Andres Aquino's upcoming book of poetry book, "Legende de la belle." The fashion designs will be accessorized by custom made handbags by D & L Prototype from Italy.
An array of celebrities and influencers is expected to attend and/or participate in the event, including Washington Redskins defensive back DeAngelo Hall, who will receive the CFW Humanitarian Award for his charitable efforts. Also from the sports world, retired basketball great Charles Davis and his wife will be on hand to witness the fashion week runway modeling debut of their teenage daughter, Niija. Expected to attend the event from the music, film and press world are recording artist Carson Key; music producer and Grammy nominee, Lee Major; and film producer "Picture Perfect," as well as Jennifer Eckhart from the FOX Business Channel.
The show will also feature live performances by international artists including Chinese music superstar BING, Broadway star Angela Michele Walker, opera star Oleksandra Hrabova, and Anna Khachatryan who will perform a special dance and choreography for the release of BING's new record. From the world of beauty, the show will include appearances by Top Model of the World Ukraine 2018 Oleksandra Kashyrina, along with Miss Bikini Hawaii Model USA 2017, Candice Leong, Miss Global 2017 Barbara Vitorelli, and Miss Earth 2015 Angelia Ong.
During the event a special announcement will be made, launching "Q", the first true glasses-free 3D phone connected to Qoobex, the first global 3D distribution platform.