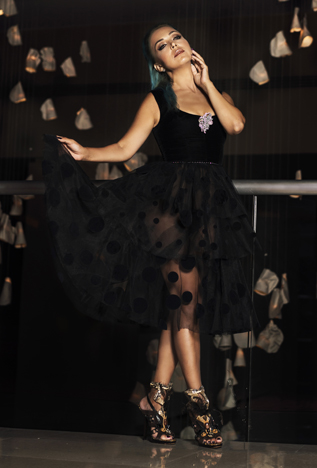 Top Romanian designer Alexandra Popescu-York, based in New York, will introduce her new luxury collection "Desire" on September 9, 2018 at 6:00 pm during the 28th season of Couture Fashion Week New York. The highly-anticipated runway show will be held at the Crowne Plaza Times Square, 1605 Broadway in New York City.
"Desire" tells the story of a refined, modern woman and it was created to be worn wherever she goes. The collection blends sophisticated accessories and uncommon materials, through which the creator conveys emotion and astounds every time. This is Alexandra Popescu-York's 10th consecutive season showing athe prestigious New York Fashion week event. She is  so far the only artist and designer in the world who has presented both a fashion couture collection and a painting exhibition during the same event.
During the event, the public will be able to see two amazing paintings by Ms. Popescu-York. The first is entitled "Desire" after her couture collection, and the second was made for CFW founder and producer Andres Aquino, one of her biggest fans.
The influence of entire centuries and art movements will be seen in the articles and costumes created by Alexandra Popescu-York, all part of a creative process where originality is the primary driving force. Her fashion collections, as well as her canvases, are imaginative and original, unconstrained in both their expressiveness and choice of materials. Elegance in fashion is seen as an act of simplification, renunciation and finally, elimination. When fashion becomes part of a show, as is the case of Ms. Popescu-York's work, the appeal is cumulative.
Alexandra Popescu-York has been painting since the age of three and studied fashion design and plastic arts at the University of Arts in Bucharest. Now settled in the USA for over ten years, she has an impressive record of both national and international fashion shows and exhibitions. Among her many awards and accolades are her inclusion in the presentation of "Couture Fashion Week's Best Designers" line-up of September 2016 and the inclusion of her paintings in the Art Exhibition at the 70th Anniversary of the United Nations in New York. What defines Alexandra Popescu-York as a fashion designer is the interplay between plastic arts and fashion. Her dresses are inspired by famous Romanian paintings, but also by the works of great masters and modern artists.