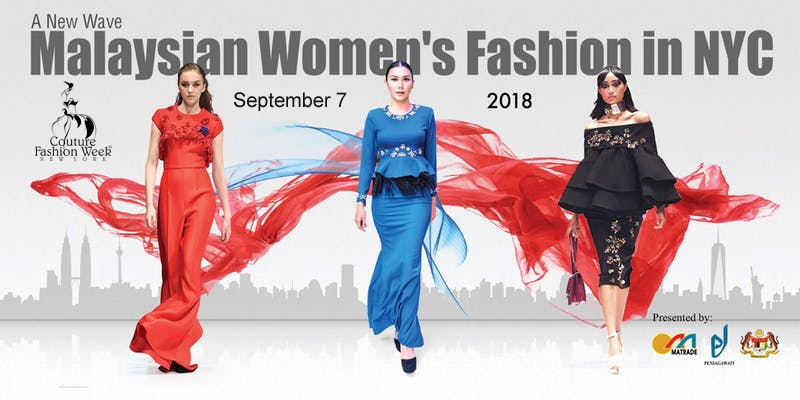 Couture Fashion Week New York, now entering its 28th season as one of fashion week's most prestigious events, is pleased to present a brilliant showcase of top Malaysian designers on Friday September 7, 2018. The fashion shows will be held at the Crowne Plaza Times Square, 1605 Broadway, New York City.
The designers represent the best of Malaysian fashion design. Fashion shows will be accompanied by electrifying performances by the Sarawak Tourism Board Dancers, bringing a tantalizing taste of rich Malaysian culture to the Big Apple.
Designers showing at 4:00 pm are Adli Afandi, P'Lo by Nancy Jullok, Adamaya, and Touch of Songket.
Designers showing at 6:00 pm are Raeesa, Hafilda Prestige, Alame, and MakCun by Erma Fatima.
Designers showing at 8:00 pm are Fiziwoo, V_Hijrah, Fazbulous and Rizman Ruzaini.
Sponsors and partners for this exciting day of top Malaysian fashion and culture in New York include: Peniagawati, AmaxMall.com, MaTrade (Malaysia External Trade Development Corporation), Malaysian Ministry of Tourism, Arts and Culture, Sarawak Tourism Board and Etihad Airways. A special pre-event invitation-only reception will be hosted by the New York City office of MaTrade on September 5.