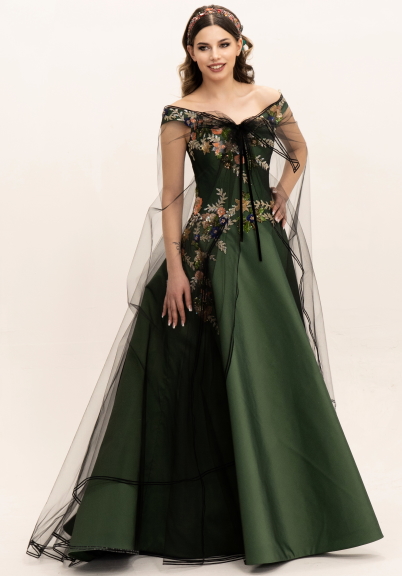 Designer Geraldina Shabani will present her latest collection for her signature Geraldina's Couture label during the 37th season of Couture Fashion Week New York. The highly-anticipated fashion show will be held at 6 pm on Saturday February 4, 2023 at the historic Prince George Ballroom in New York City.
A native of Albania, now based in the New York area, Geraldina Shabani began designing and sewing her own designs at the age of 10, and has never looked back. For economic reasons, she eventually moved to Greece, where she took a series of jobs and was able to bring her son to join her after a few years. Soon after, she established a network of clients and supporters who recognized her exceptional skills, and helped her launch a startup business specializing in tailoring and alterations. Her endeavors led to work on furniture and décor for hotels and villas, eventually supervising uniforms for 750 employees in a large hotel.
After emigrating to the United States, and with her young son serving as her translator, Geraldina landed a plum job with renowned fashion designer Peggy Jennings at the iconic Waldorf-Astoria in New York City. As she continued to improve her English skills, Geraldina garnered a number of private clients and offers from top fashion brands looking for skilled seamstresses and designers. She went on to work for Christian Dior, Dolce and Gabbana, Fendi and Prada. In 2015 Geraldina realized a lifelong dream and opened her own couture atelier in Hartsdale, New York, outside of New York City, and quickly became known for her impeccable quality and exquisite workmanship. When the Covid
pandemic hit, Geraldina found herself making face masks, and was recognized in the effort by the media and even City Hall. This attention had all of Westchester County lining up at her door to buy masks, and she also donated many masks to local health care workers. At this point, Geraldina needed a larger space, so she moved to her current location in Scarsdale, New York.
As Geraldina's Couture gears up for its first major fashion show in New York, the designer reflects on how she is determined to bounce back from the pandemic challenges, keep and grow her valued clientele and workers, and bring her brand to the next level. Geraldina's Couture has launched a GoFundMe campaign for the show, and invites her current and new fans and supporters to donate.
"Raising this money for my fashion show in February will be my way of thanking everyone who helped me get to this point," says Geraldina. "All of the love that was given to me and my son did not go to waste. I am now working to pay fashion show fees along with my workers, staff, models, fabric and materials, transportation and more. Every bit helps." She adds: "All the designs we will be showcasing are handmade by myself and my team. I want to inspire other women — and especially mothers that survived or are trying to survive — that there is love and hope, and it's never too late to go after your dreams."