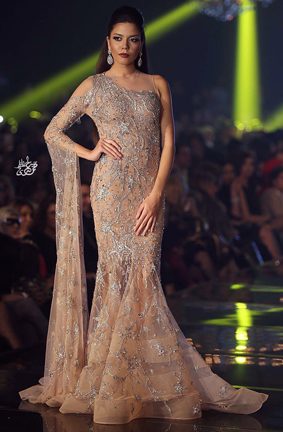 Prominent couture designer Hany El Behairy will present a selection of his stunning creations during the Cannes Fashion and Global Short Film Awards Gala. The event will be held on Saturday May 20, 2017 at the iconic Intercontinental Carlton in Cannes, France.
Hany El Behairy is one of the most prestigious fashion designers of haute couture in the Middle East. A native of Egypt, he has been creating unforgettable designs since the age of 15. Through his designs, and his fascination with color and texture, he strives to create a symphony of East-West luxury, style and elegance for his discerning clientele. Hany El Behairy's exquisite designs are known for their elegance, attention to detail and the highest quality fabrics and embellishments. His feminine and luxurious creations include cocktail dresses, evening gowns and breathtaking bridal designs.
After earning his law degree, Mr. El Behairy soon decided to follow his true passion of fashion design. He has since become a favorite designer of many Middle Eastern socialites and celebrities including Yousra, Laila Elwy, Warda Al Gazaeria, Elham Shahin, Safaa Abu El Seoud, Latifa, Hanan Tork, Sabah, Shaimaa Saeed and many more. He has been featured in many Arab and European publications and TV channels including ART, Rai Uno, Rai 3, Odion, Cawale and Fashion TV. Mr. El Behairy has shown his designs at many prestigious events such as the Mediterranean Festival (Naples, Italy), Moda Week (Italy), LUX Festival (Lebanon), and the International Diamond Festival (Qatar). His numerous awards and accolades include a people's choice "Oscar" by ART (International Arab TV), the LUX prize as Best Fashion Designer (Haute Couture) in the Middle East, and the International Fashion Week Award (Rome) presented by the Italian Ministry of Culture and the Mayor of Rome.
Click for tickets to the Global Short Film Awards Gala in Cannes.