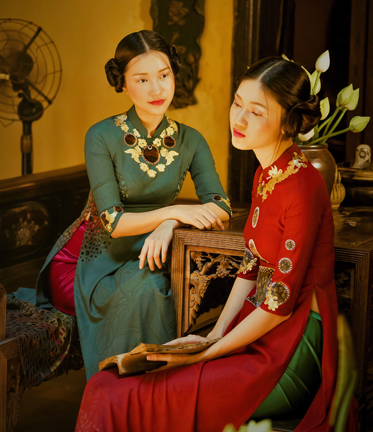 Celebrity fashion designer Do Trinh Hoai Nam will present his latest collection entitled "The Golden Lotus Ao Dai Collection" during Couture Fashion Week New York's  26th season. Marking the designer's first time showing at the prestigious New York Fashion Week event, the highly-anticipated fashion show will be held during CFW's opening day this season at 4 pm on Friday, September 8, 2017 in the Broadway Ballroom at the Crowne Plaza Times Square Manhattan, 1605 Broadway, in New York City. 
Award-winner Do Trinh Hoai Nam is a top fashion designer in his native Vietnam. He began designing in his early teens, and has gone on to build a highly successful career and brand which has been operating for over 20 years in the Vietnamese market. He has shown his designs at important fashion events worldwide and has been featured in major media. His distinguished clientele includes hundreds of top celebrities, models, business women, socialites and politicians. He recently had the honor of designing the "Ao Dai" (national dress of Vietnam) worn by Mrs. Nguyen Thi Kim Ngan as she took the Presidential oath of office during her inauguration ceremony in Hanoi's Parliament in 2016. Nguyen Thi Kim Ngan is the first Chairwoman in the history of Vietnam's National Assembly, as well as the first woman to hold the most important position of the Party and State of Vietnam. She is also a long time client of the designer.
Do Trinh Hoai Nam's designs are known for their dramatic and sophisticated flair, full of elegance and beauty. Great attention is paid to every detail of his collection, from the hand embroidery to the glamorous and luxurious gold leaf and gemstone embellishments. His latest Ao Dai couture collection is inspired by the story of the castle princess in the first 30 years of 19th century. The ensembles will be presented in a dramatic runway show directed by the designer. The collection's color palette was inspired by the lotus flower, with images rendered on a special silk pattern and hand decorated with gold leaf.  Do Trinh Hoai Nam has incorporated some of Vietnam's finest artisan talents into this collection. The unique golden pattern technology is from Kieu Ky Trade Village in Hanoi, the special one-of-a-kind heavy rich silk fabrics are from Thai Binh province, and the exquisite hand embroidery and gold leaf 999 are by craftsmen from Thuong Tin, Hanoi.