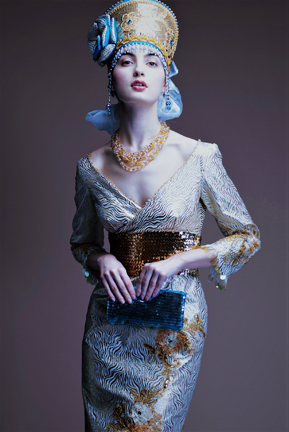 Returning for the sixth time to Couture Fashion Week New York, designer Evgenia Luzhina will present her latest collection entitled "Blue Innocence" at 6 pm on Saturday September 9, 2017. A regular favorite of CFW audiences, Ms. Luzhina's fashion show will be held at the Crowne Plaza Times Square, 1605 Broadway, in New York City. Young and talented international vocalist Alex Berezin will add beauty to the runway with his powerful voice.
Evgenia Luzhina's vibrant new high fashion dress collection blends Russian ferocity and Western cool, in a palette of blue mixed with gold and white. The stunning jewelry for the collection is made from recycled materials.
A native of Moscow, Evgenia Luzhina received a B.A. in Fine Art and Design from Moscow Art College, and went on to serve for five years as the Resident Set and Costume Designer for the Moscow Chamber Forms Theater. There, she designed numerous productions, which were staged in Moscow, Los Angeles and Washington DC. In 1991 Ms. Luzhina moved to the USA where she continues to pursue and exhibit her extensive experience in art and theatrical set and costumes design.
Ms. Luzhina's most recent accolade was Maryland Fashion Awards 2012 – Winner High Fashion Designer. She also received the Helen Hayes Award 2010: Outstanding Production for Youth – Winner, and National Silver Archer Award in Public Relations 2014- Winner.
As a costume designer for the last 30 years, Evgenia Luzhina has worked for numerous theaters in Russia and the USA, creating costumes for over 50 plays.
Ms. Luzhina has participated in many prestigious fashion events including Couture Fashion Week New York, and Washington DC's Presidential Inauguration Fashion Shows. Her designs have won critical acclaim in both local and national publications, on radio and television, including being featured in Collezioni Haute Couture magazine.