There is a lot to love about amethyst rings, but like any type of jewelry you will have a lot of different options to consider when choosing between the available products.
To help you on your way, here is a quick guide to finding an amethyst ring that will suit you down to the ground.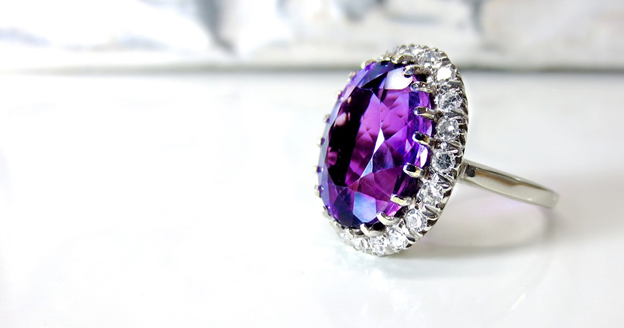 Stone size & shape matter
One of the best things about amethysts in general is that they are typically a beautiful deep purple in color and so will match the majority of people's skin tones. However, this means that the major consideration should be the size of the stone itself; go too big and it will look cumbersome, while too small a stone will leave your finger looking a bit bare and barren.
Finger length and overall hand size will be key to your decision-making at this point. If you have compact hands and slender fingers, a smaller stone will be fitting and will enhance your natural attributes without overwhelming them. In terms of stone shape, those with daintier digits should opt for oval or pear-shaped amethysts set in rings, since these will give the impression that your fingers are a little longer.
Of course you also need to think about your usual nail length, as this will also impact the look of your hands and determine which ring is right for you. For example, even if you have fingers that are on the shorter end of the scale, they may appear longer if you wear longer nails on a daily basis.
Band thickness is significant
The size and shape of the amethyst is certainly going to take the lion's share of your attention when choosing rings, but the band itself will also have a part to play.
Those with larger hands and longer fingers can opt for thicker, chunkier bands overall, since they will not look out of place in this context. Meanwhile if you have more petite mitts then a slender band will potentially be a better option. Of course if your fingers are slender without being especially short, a thick band can also make sense, and you may need to experiment a little with different thicknesses to get the right size for you.
Mounting material
By far and away the most popular metals used in the production of amethyst rings are silver and white gold, and for good reason. They really help to offset the dazzling purples that reflect and refract from the gemstone, meaning that unless you are feeling a particular urge to stand out from the crowd, a silver-colored amethyst ring is definitely the way to go.
That is not to say that you cannot find gold amethyst rings; if this floats your boat then do give it a try, especially if the rest of your style is more closely oriented around this type of jewelry.
If you are still uncertain which is the right amethyst ring for you, keep an eye on the variety of options available from top designers and get expert advice before you commit to a purchase.