It's every woman's dream to look fashionable and beautiful. This dream, however, can come at a great cost. If you know how to shop smart, you can actually put together a good wardrobe without wiping out your bank account. You can get that million-dollar look for a fraction of the cost.
Here are fashionable ways to look richer without breaking the bank:
Rent your dresses for formal occasions.
 If you have a formal event to attend, you probably dread having to shop for an expensive gown. With today's booming sharing economy, dressing for big events need not set you back hundreds of dollars. Check out The Volte Dress Hire to rent that perfect designer gown or cocktail dress at a great bargain price. Think of all the money you'll be saving when you rent instead of buy clothes for black-tie events.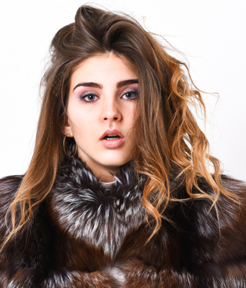 Maximize bargains and sales.
To get the most out of discounts on clothes for sale, here are great ways to save for a bargain:
Know when your favorite designer brands go on sale, and save your money for shopping during these dates.
Visit a variety of clothing stores and compare prices before you make your purchases.
Even during sales, buy high-quality wardrobe pieces. Don't settle for cheap clothes that are not well-made.

Buy the basic clothing pieces.
There are certain pieces of clothing that are staples in every practical and fashionable woman's wardrobe. Before you buy other types of clothing, make sure you have these basic pieces that you will mix and match with other pieces of clothing and accessories. These are the following:
You need a high-quality pair of dark skinny jeans. Buy jeans that flatter your body type and hide your flaws. It's easy to pair your dark jeans with heels and a striking blouse for a night out or with classic ballet flats and a white shirt for brunch.
Invest in one or two stylish blazers that fit you well. Choose one in black or navy blue that you can match with a basic round neck white tee and jeans. Another blazer can be in a striking color that matches your skin tone, which you can use on a date or party.
Purchase a few well-made dress shirts in flattering colors that you can wear with pants or skirts.
Save up and buy a well-known brand of black pumps. You don't need too many pairs of shoes, but you do need a few pairs of footwear in classic styles.
Buy your little black dress in a design that suits your body type perfectly. You'll be reaching for this elegant dress often when you're invited to cocktail parties or formal dinners. So, choose a black dress that you'll wear confidently.
If you'll spend money, invest in these basic pieces as you'll be using these clothes the most often. 
Wear striking jewelry and accessories.
Once you have the staple pieces of clothing in your wardrobe, dress up your everyday look with stylish jewelry and accessories. Here are some tips you can experiment with:
Earrings bring attention to your face, so choose eye-catching but tasteful pairs. Wear an interesting pair of dangling earrings to dress up plain colors or styles of clothing. If what you're wearing is already colorful or quite trendy in style, stick to classic stud earrings.
Use beautiful fashion necklaces or pretty scarves to accentuate shirts and dresses. Without having to buy too many blouses and tops, you can vary your look by having an assortment of necklaces and scarves in your wardrobe.
Invest in a few stylish belts that you can use to accent dresses or your classic pair of pants.
Choose unique pairs of shoes to complete your ensemble. A striking pair of heels or pumps can totally enhance your overall look, and make you seem like you just walked out of the pages of a fashion magazine.
 Take advantage of off-season sales.
When you know how to shop for the clothes you need and want in postseason sales, you'll be able to grow your wardrobe without spending too much. Prices drop drastically when it's off-season. Here are tips you can follow:
Check your existing clothes and list down the specific pieces you'll need for the next year. In short, plan ahead for your needs.
Make a budget for your seasonal shopping trips.
Buy your winter coats after winter at end-of-season sales, and purchase swimsuits on sale in spring and winter. Get the pieces you've been dreaming off at big discounts.
 Conclusion
When you know the tricks on saving money in your clothes shopping, looking fashionable and expensive is attainable. Master how you can get the designer clothes you've always been wanting without exceeding your budget. Many well-dressed women actually know how to shop smart. That's partly how they build a well-curated wardrobe. You can do the same for yourself.