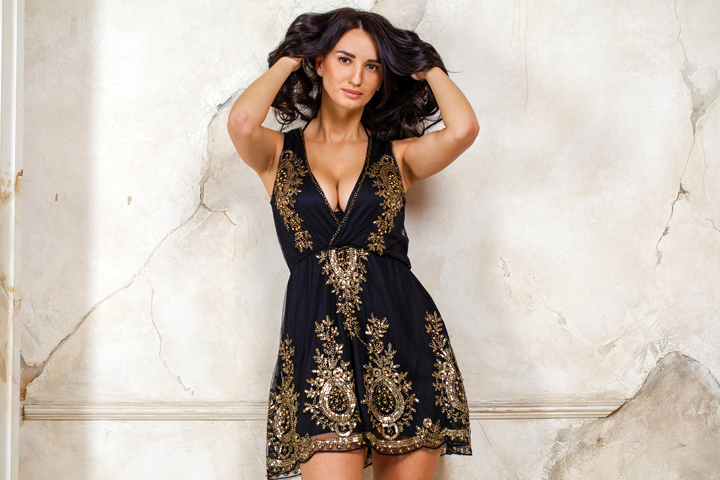 You're most likely acquainted with basic bras, such as t-shirt bras, full-coverage bras, push-ups, and such. But there's another type you ought to know about—the shelf bras. They're also known as tipped-out bras, open-bust bras, boob-out bras, or open bras.
A shelf bra plays the role of a basic bra—to support and cover a woman's breasts—even though it doesn't cover the breasts fully. Ideally, it supports the breasts by allowing them to rest on it. Here are some important things to know about shelf bras:
The Design
Shelf bras usually have double layers, that is, the soft material that's in contact with your bust and the outer material. These double layers are meant to provide adequate support. Rather than the bra sitting directly around the breasts, it sits under them, thus holding them up. Most of these shelf bras expose the middle and the upper bust region depending on the breast size, making your breasts look sexier.
Because of its design, a shelf bra might not go well with certain kinds of outfits. For instance, if you wear one under a casual or a formal outfit, you might feel uncomfortable. It works best with more intimate wear. Therefore, you can wear one during date nights.
This is to say that the bra works best with tank tops and low-cut tops and dresses. It's a perfect choice if you want to impress your partner and the public with your assets.
Types Of Shelf Bras
There are two major types of shelf bras:
A built-in shelf bra is not a bra in itself, but an extra layer of fabric incorporated in swimwear or a camisole. This means you need not wear a bra underneath, which is a relief for most women and less hassle, too. Surprisingly, built-in shelf bras offer adequate support and keep your breasts in place.
It has cups, seams, and an elastic band. The elastic band, which holds the under-bust region firmly, is thick preventing the bra from riding up when you raise your arms. The built-in cups are seamless and well padded.
Many women love a built-in shelf bra in a tank top or camisole because it's comfortable and supports both small and large breasts well.
The platform shelf bra is also known as a quarter-cup bra. It's more revealing than the built-in shelf bra. It covers only the lower part of the breasts, shows more cleavage, and exposes the nipples. This intimate design significantly elevates your sex appeal.
Just like the built-in bra, the quarter-cup bra is supported by an elastic band, meaning it's wireless. The band is thick and elastic, providing good support. This type of bra also gives the breasts adequate rest, balance, and a racy lift. It comes with sleeker and thinner straps which make this bra look unique.
Benefits Of Wearing A Shelf Bra
Here are some advantages of wearing  a shelf bra:
One of the many reasons women go for shelf bras is that most don't have thick padding. Wearing this type of bra guarantees comfort and a better breast shape.
Shelf bra pads are thin but firm, comfortable, and expertly cushioned. They don't cause chafing, tightness around the bust, bulging, rubbing, or digging into your skin, making the shelf bra a comfortable alternative.
A shelf bra compresses the breasts as a support technique using the thin double layer. It's normal for any traditional bra like the push-up bra to come with two cups for compression. However, that doesn't apply to shelf bras.
The compression in shelf bras is done by a material that cuts across the bust area. It gently pushes the breasts flat into the chest. If you have big breasts, they'll form a cleavage. The gentle compression reduces  bulging and bounce.
Rounder Appearance Of Breasts
One of the many motives for wearing a shelf bra is to look sexy, especially before your significant other or when attending casual daytime events. This bra has an elastic band and natural padding instead of an underwire, making the breast look natural and rounder. It also adds fullness and shaping.
If you're not satisfied with how your breasts look even after wearing this bra, there's always a solution. To make your breasts look rounder and more enhanced, you may consider purchasing four removable bra pads—two for each breast. The inner pads will help push the breasts up, while the outer pads will push your breasts together, making them look full and round. This will give your breasts the much-desired racy hot look.
A shelf bra is light and airy since it doesn't have underwires or stiff cups. Wearing it allows you to feel comfortable and tap into your feminine energy. The thin layers allow free circulation of air. As such, it's a perfect choice if you want to wear a low-neck summer outfit.
Since a shelf bra only supports the lower part of the breast, it prevents boob sweat during hot weather, which can be a problem with other bra types.
Suitable For Sensitive Skin
Some women are allergic to certain types of fabric. Their skin sensitivity requires them to go for bras with a soft and supple fabric. Since most shelf bras are made from cotton, the chances of allergic reactions are very slim. Cotton is a soft and natural material, providing maximum comfort for any skin type.
Conclusion
Shelf bras are an excellent option if you fancy rounder and uplifted breasts. Their design also leaves a significant portion of your boobs exposed. Thus, wearing them perfectly reveals your flirty side. They are an ideal choice for romantic date nights or casual parties, sure to grab the attention of curious onlookers.
When shopping for shelf bras, do consider maximum comfort and stylish appearance, but do not neglect quality. So, go for high-quality ones that make a bold statement of your sense of style.