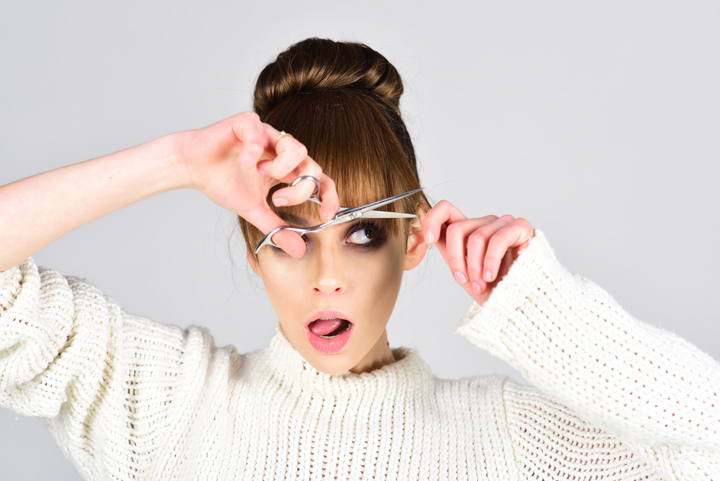 Can't go to the salon and have a haircut?  Well, don't fret because you can trim your hair at home. Even if you're unsure how to do it, you can do so with a little practice and more knowledge. If you want to have a trim that looks professional, then read on.
Here are some tips on how to trim your hair like a pro:
Use The Right Tools
You may think that any scissors will do, but that's not the case. Don't use kitchen scissors or scissors that aren't sharp enough. They'll only make crooked lines, which may be hard to fix, and you may end up with frayed and sloppy ends. But, with sharp shears, you can easily make clean edges and lines.
Aside from scissors, you must also use a wide-toothed combed as it can help when trimming your bangs. This can keep your strands in place while cutting your hair. Also, have clips or scrunchies to make sections easily.
For curly hair, you may want to use a curling hair product like shampoo and conditioner to wash your hair. Then, let it dry before cutting because curly hair is less fluffy and longer when it's wet.
Smooth Your Hair
After having all your equipment, you should first smooth your hair. As mentioned, you can wash your hair first before drying and smoothing it, especially for curly hair. You can cut it moisturized or dry.
Working with moisturized, damp hair allows you to get a clean cut. Moisturizers can help avoid split ends and breakage when your hair is being cut. Also, damp hair allows your hair to be smoothed easily. If you prefer dry hair, then get it tangle-free so you can control your hair quickly.
Create A Guide
To avoid risking a major mishap, which can lead to a drastic haircut, you must have a guide. Do this by making sections and trimming hair little by little. Avoid immediately cutting to the length you want to trim, but work your way up by starting in small increments. If you cut too much, you can't go back and repair it. But if you trim small, you can always cut more hair.
You may also want to start at the very front in small sections, like one or two inches when spread between your fingers. Doing this will guide you because you'll know where your hair lands. Using clips will help you with this because it can help hold any stray sections.
Depending on your hair type, you can follow these techniques:
Straight Hair: Hold scissors horizontally to get a sharp, clean line by trimming the ends of your hair. As mentioned, cut in small sections.
Wavy Hair: If you have long layers, brush your hair up, then trim them carefully. Similar to straight hair, trim the ends of your wavy hair only and avoid holding each section too tight.
Curly Hair: You may want to use a tri-fold mirror when cutting curls. For square shapes, side to side and top to bottom may be the best. For triangular shapes, hold the hair towards the back of your head when cutting. On the other hand, you should hold round shapes forward before cutting them.
Conclusion
Cutting your hair at home is quite hard at first. However, you can get through this if you've read the guide above. You might even make it look like a professional cut that can complement your fashion look without spending too much. That's why you must use the right shears, then smooth your hair before starting to trim. Also, doing sections will help you cut your hair more easily.