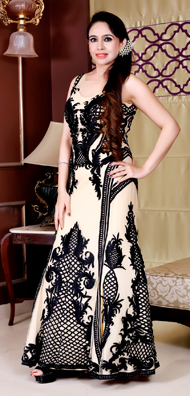 Rising Indian design star Karishma Sondhi will present her latest creations on the runway during the upcoming 24th season of Couture Fashion Week New York. The fashion show will be held at 6:00 pm on Saturday September 10, 2016 in the Broadway Ballroom of the Crowne Plaza Times Square Manhattan, 1605 Broadway, New York City. Click for tickets to the show.
Karishma Sondhi studied at the Pearl Academy at Nottingham Trent University UK, the Nuova Accademia di Belle Arti in Milan and Heriot Watt University in Scotland. Her studies and hands-on experience with such renowned brands as Victoria's Secret, Lululemon, Brandix, MAS H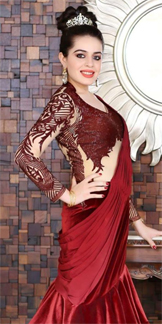 oldings and Quantum, among others, gave her expertise in textiles, manufacturing, fashion marketing, retail, management and finance, as well as brand communication. Ms. Sondhi worked as a stylist for the iconic Italian brand Diesel, dressing models for the runway in Milan. She was selected as a representative on behalf of India in the United Kingdom by the renowned luxury brand Harvey Nichols in Edinburgh to design a promotional strategy and ad campaign. She went on to intern with Indian fashion designer Pawan Sachdeva, and soon launched her own fashion label "Karishma Sondhi – Bridal-Couture-Pret."
From her studio in Punjabi Bagh, New Delhi, Ms. Sondhi caters to her clientele: the modern woman looking to enhance her image with classy yet trendy garments. Whether the look is ready-to-wear or custom couture, Karishma Sondhi's designer style comes through. All her designs are unique with a focus on impeccable cuts and silhouettes, draping and fit. She uses rich fabrics including silks and brocades, featuring fine detailing and opulent colors. Ms. Sondhi's designs are mainly inspired by the rich Indian cultural heritage and a mix of western sensibilities from around the world. She is also inspired by elegant royal cuts and embroideries from the Victorian and Mughal eras juxtaposed with modern 21st century trends.