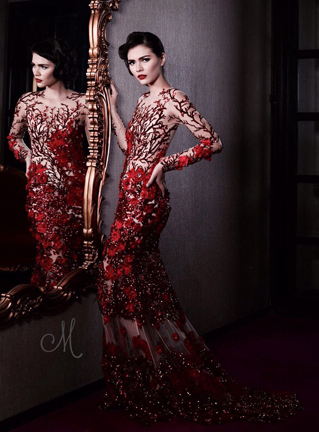 Indonesian designer Mira Indria will make her debut at Couture Fashion Week New York with a highly-anticipated fashion show at 6:00 pm on Saturday September 10, 2016. The event will be held in the Broadway Ballroom of the Crowne Plaza Times Square Manhattan, New York City.
A rising star on the competitive Indonesian fashion design scene, Mira Indria has been pursuing her career for about 5 years. A native of Bandung, Indonesia, Ms. Indria previously was a singer, who designed her own outfits for her performances. But over time, she learned couture design techniques and began to pursue that avenue professionally.
Mira Indria's couture designs are classy, elegant, and glamorous, just like her own personality. Her designs incorporate exquisite artistic elements and details, yet are not overly complicated. Each beautiful gown is a masterpiece, taking a long time to finish. Initially, Ms. Indria's inspiration was the "kebaya", a traditional Indonesian dress. The classic kebaya design is flattering to all women's figures, and the designer used it as a basis for many gowns. She strives to make every woman wearing her designs feel comfortable and beautiful.
After two years pursuing her haute couture in Indonesia, Mira Indria is looking to develop her label internationally, and Couture Fashion Week New York is her first international event. Ms. Indria hopes her collection will be embraced by fashion lovers in the USA, and especially in New York.