While it's no secret that what you wear can affect your confidence, we still seem to throw that knowledge out the window when it comes to our workout attire. After all, how many times have you worn a pair of ratty sweats or an oversized T-shirt to the gym? What about those embarrassingly sheer leggings that finally revealed to your whole yoga class which side of the "thong vs. no thong" debate you landed on? When it comes down to it, the act of exercise itself isn't always pretty (burpees, we're looking at you!). But that doesn't mean we need to subject ourselves to some ugly duckling wardrobe while nurturing that beautiful swan within. Read on for six easy ways you can look cute while working out and burn those calories in style!
Yes, You Can Flatter Your Figure
Much like your everyday wardrobe, you want your workout clothes to fit your body. When shopping for athleticwear, opt for clothes that comfortably flatter your figure while offering a little bit of give with every stretch. Avoid clothes that are too tight in any one spot as this could seriously hinder your workout–and possibly cause a wardrobe malfunction (yikes!). If you feel the urge to pull or tug at any part of your outfit, then put it in the "no" pile. Exercise is hard enough without the added stress of feeling self-conscious about your clothes. And, while you may feel tempted to wear big and baggy clothing while huffing and puffing on a treadmill, outfits that are too loose can cause chafing and discomfort as well. Keep your gym wardrobe simple and trade in those ratty college sweatshirts for some cute and trendy hoodies instead. Remember to wear a workout tee or tank top underneath for when things get too hot to handle.
Keep the Sweat in Check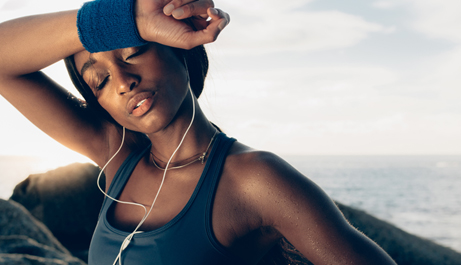 Nothing beats the satisfaction you get from a super intense workout. What's less satisfying, however, is trying to enjoy a post-workout smoothie while sitting in stinky, sweaty clothes. Whether you live to exercise or simply tolerate it in order to have that extra weekend mimosa, moisture-wicking workout gear is something you need in your life. Workout clothes made from high-tech synthetic fibers, like polyester and nylon, pull the moisture (read sweat) from your skin to the surface, allowing it to evaporate quicker than cotton. It also helps to regulate your body temperature, unlike cotton tees that can leave you feeling chilly during cooldown. Plus, breathable, moisture-wicking athleticwear takes care of that unflattering "wet" look that happens during exercise. Hey, anything to eliminate that underboob sweat look, right, ladies?!
Treat Yourself to Some Fancy (and Functional) Footwear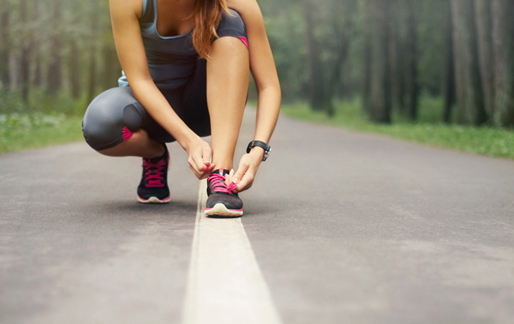 Step up your next workout with a new pair of cute sneakers. Not only will some stylish sneaks help you feel a little extra snazzy for that 6 a.m. workout, but they'll also help you deliver on a truly successful (and safe) workout. After all, not all sneakers are created equal. In other words, the shoe you use for trail running isn't necessarily the best choice for an intense HIIT workout in your living room. Do a little research on the right shoe for your workout style and your body will thank you for it. You'll want to consider things like exercise preference, comfort level, tread and sole cushioning, just to name a few. Then, of course, you can consider the aesthetics. If you have a hard time getting motivated, consider a shoe with bright colors to keep you smiling through the pain. Yeah, we hear it. But no pain, no gain. Right, ladies?
A Little Makeup Goes a Long Way
If you tend to get a little red-in-the-face during your workouts, then you might want to think about adding a tinted moisturizer or mineral foundation to your workout look. Of course, the last thing you want to do is pile on the oily makeup only to sweat it off moments later. The beauty of mineral makeup is that a little goes a long way and significantly reduces shine while offering coverage. Plus, it doesn't block pores, reducing your post-exercise breakout possibilities. Couple your base with a little tinted lip balm and some waterproof mascara for a natural look you'll love. Not to mention, one that won't come off on your towel at the end of your workout.
Wear Your Hair Up
We get it. You're proud of your hair. With all of the love and attention you give it, you deserve to have it look its best at all times. That's why we're asking you–nay, begging you–to wear your hair up when you work out. Letting your hair get all sweaty during a workout can lead to a flaky scalp and clogged follicles. Not to mention the frizz. Incorporate an updo into your workout look to keep your hair looking healthy and fresh. Avoiding tight ponytails and damaging hair elastics are a good idea, too. Opt for forgiving hair accessories that don't snag your tresses like fabric hair ties or scrunchies. Mixing up the hairstyles you wear on a daily basis can also help save your locks from breakage and frizz. Swap a top knot for a braid on occasion or even a side ponytail from time to time. Essentially, not pulling your hair back in the exact same spot every day will save you the headache of expensive products and hair repair down the line.
Keep It Colorful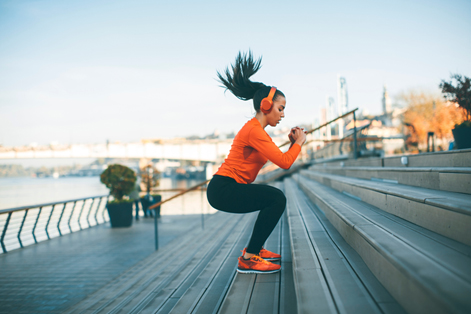 Dress for a successful workout by incorporating fun, vibrant colors into your exercise attire. Try pairing a cute pastel top with black leggings or a neon sports bra with grey joggers for a subtle pop of color that will keep you motivated when the going gets tough. Wearing colors that you love can give you the confidence boost you need to do hard things (squats included). And really, when you think about it, exercise is all about realizing our best selves. So if your clothes can help get you there, don't you think they're worth the investment?