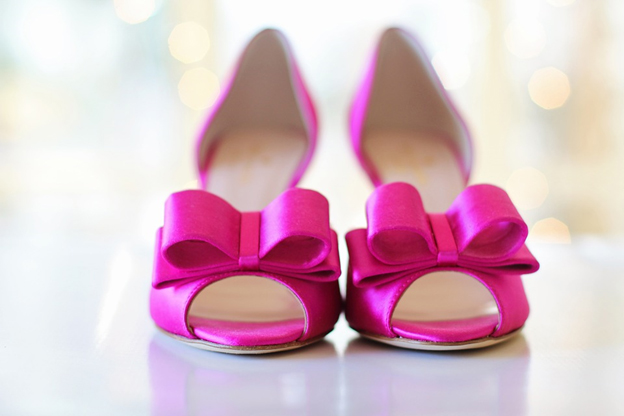 Whether you're the bride, the maid of honor, or participating as a guest, you'll need to make sure you have appropriate footwear. And, given that this aspect can make or break your wedding experience, you also need to choose something comfortable, that will help you dance your way through the night.
Therefore, we think a pair of Valentino shoes may be the best option for such an important and joyous occasion. They are well-designed, gorgeous, and will treat your feet with love and care. Moreover, the range is so wide that anyone can find the right pair of shoes for their needs. But since we're talking about weddings, let's have a look at some of the best designs that will work amazingly at events organized this year.
Shoes for the Bride
As the bride, you will be on your feet all night long, dancing, chatting with guests, and making sure everyone is having a good time. Therefore, your shoes must be accommodating and comfortable.
Of course, they must also fit the dress and look good, since you'll be the center of attention. Still, you have options besides the classic high-heeled stiletto in white. For instance, Valentino has some beautiful ballerina flats that work nicely with floor-length dresses and may become your friends once the party starts (and the official pictures are over). However, if your dress is tea-length or shorter, you may want a pair of elegant heels that fit the dress and help elongate the legs. Luckily, this year's offerings include a wide range of stilettos in different lengths and designs, so you can have your pick.
Shoes for the Maid of Honor
Since your job is to help the bride navigate the day smoothly, you may have an even tougher time. Not only will you have to look stunning, but you'll also have to put out fires and run from place to place in order to make sure everything is going well.
So, while you prepare your wedding emergency kit, you may also want to prepare a second pair of shoes for when things calm down. Or, it may be enough to get a pair of block-heeled shoes from Valentino! These shoes are comfortable, easy to accessorize with an elegant dress, and quite in style nowadays.
If block heels are not your style or they don't fit your dress, the new collection also has a beautiful strap heel design with covered stiletto heel with rubber injection (for extra comfort). They look great on your feet and the straps can accommodate even wide feet.
Shoes for Guests
Since you won't be on your feet that much and you can always take a rest after a dancing session, your options are wider. Therefore, if you want to look fabulous, you can indulge for one night and wear a pair of high-heeled Valentinos with a pointed toe. They look amazing with both short and tea-length dresses and can easily be the star of your outfit.
If you're going for something more comfortable but still elegant, we recommend their slingback heels. These shoes have an air of refined style that goes well with a beautiful dress that charms the world through its simplicity. In addition, as the heel is smaller, it will be less problematic to keep them on all night long.
Wrap Up
At the end of the day, all that matters is that you feel good in your outfit and role at the wedding. Luckily, there are plenty of cute shoes in a variety of designs, colors, and heel heights in the new Valentino collection so anyone can have their pick. So, don't be hasty, especially if you're buying for your big day!