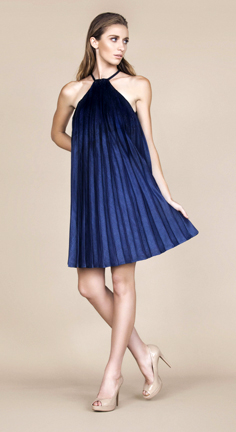 Designer Pawan Kumar will debut his New Miuz Spring/Summer 2019 collection, "Midnight Blues," in a Couture Fashion Week New York showcase on Saturday, September 8, 2018 at 6:00 pm at the Crowne Plaza Times Square, 1605 Broadway, Manhattan.
Following New Miuz's successful debut at Couture Fashion Week in 2016, Pawan returns this season with a highly-anticipated line of evening wear inspired by the tropical island nights of Mauritius. Known for feminine silhouettes and luxurious fabrics, he has broken new ground with this collection by featuring sustainable and eco-friendly denim in sophisticated, clean, and elevated designs.
Pawan, an award-winning fashion innovator with an extensive background in textile technology, was Mauritius' first designer to be featured in New York Fashion Week. The designer drew this season's inspiration from his native country, explaining, "There is nothing more soothing than to lay in a hammock at night and watch the deep blue sky in Mauritius." Elegant, feminine and alluring, the colors and shades of the collection reflect the night sky, while the fabrics, cuts and silhouettes draw inspiration from that serene and calm feeling.
The collection takes denim and turns it on its head, from an everyday material to something exquisite, precious and high-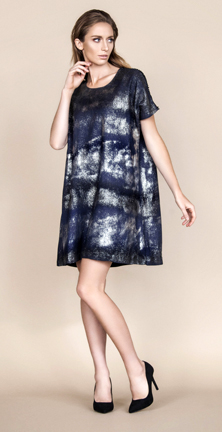 end. With the addition of pearls and stardust to add glamour, the collection is ultra-feminine and highly sophisticated. Designed to enhance the female form, each sustainable couture garment captures the identity of the young uptown woman. With hand-made plissé fabric, and original patterns developed from scratch, all garments are hand dyed and hand stitched, of striking quality and unique design.
The environmentally responsible denim garments used in Pawan's "Midnight Blues" collection were created utilizing laser technology of Jeanologia, Spain and produced at SaitexVietnam using TENCEL™ x REFIBRA™ Lyocell, among of the most sustainable fibers in the world. Cotton scraps upcycled from garment production and wood pulp harvested from responsibly managed farms are transformed into new virgin fibers through Lenzing's environmental award-winning TENCEL™ closed-loop lyocell production process. The fabrics are woven by textile mills worldwide including Santanderina, Blue Diamond, Prosperity, Cone and Tintex, whose fabrics are used in this collection. In addition to their botanic origins, TENCEL™ x REFIBRA™ Lyocell fibers live up to circular economy expectations as they are fully compostable and biodegradable in both soil and water at the end of their useful life.
About the designer. Inspired by the tropical beauty of his native island of Mauritius and steeped in global culture, Pawan Kumar brings a unique blend of creativity, innovation, and technical expertise to his label New Miuz. His elegant designs explore themes of the natural world, multiculturalism, feminine sophistication, and opulence. A rising international fashion design star, he made his debut at Dubai Fashion Week in 2015, where he was awarded "Designer of the Year," for a vibrant collection of lush, couture gowns with hand-finished embellishments. He studied textile and fashion design at the University of Mauritius in Moka and joined the multinational design studio, Ciel, following graduation. His global success as the first Mauritian designer to present collections in Dubai and New York fashion weeks has made him an influential fashion leader and noted public figure in the island nation's emerging economy. In Spain, Pawan built a longstanding relationship with world-renowned textile innovator, Jeanologia, and expanded his knowledge of socially conscious, technology-driven fabric finishing techniques. Drawing on his extensive knowledge of sustainable textiles, as well as consultative roles through Jeanologia with leading global fashion brands, including, Uniqlo, J Brand, Helmut Lang Cotton des Iles, Asos, Lenzing and Woolworths, he creates fashion-forward, eco-friendly denim styles in his role as the Design Manager for Jean Atelier in Los Angeles. His couture designs and collaborations have been featured in a wide variety of global press and media. Pawan currently lives in the urban jungle of Los Angeles, but considers himself a global citizen, with frequent visits to Mauritius and the world fashion centers of Paris, London, Barcelona, Cape Town, and Dubai.