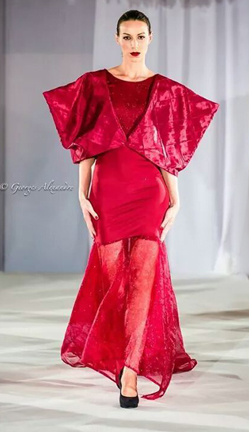 Emerging design star Rashad Calhoun will present his latest collection for his Dahsar by Rashad label on the Couture Fashion Week New York runway during the prestigious event's 21st season. The fashion show will be held at 8:00 pm on Friday February 13, 2015 in the Broadway Ballroom of the Crowne Plaza Times Square Manhattan, 1605 Broadway in the heart of the city.
A self-taught designer, Rashad Calhound is a native of Chester, Pennsylvania who started creating his distinctive fashions at age 13. He launched his Dahsar by Rashad label in 2007, catering to women of diverse ethnic and socio-economic backgrounds, including prominent socialites and reality stars. Among his clientele are reality stars Syleena Johnson and Lil' Mo (TV One's hit show R & B Divas), and Diamond Strawberry (Love and Hip Hop New York), as well as Rain Pryor (daughter of legendary comedian Richard Pryor), and Mike McCluney (Day 26, formerly of MTV's Making the Band). Mr. Calhoun has been requested to style singer Brittany Holmes for the Grammy Awards in February 2015. His designs have been featured in such publications as Vibe, 10 and Amina.
In 2013 Mr. Calhoun gained national recognition in the fashion world for his trending designs when he was invited to be part of New York Fashion Week's "The Black Collection". He went on to show his designs during Paris Fashion Week in 2014, and he will again show in Paris in 2015.
Through his designs, Rashad Calhoun aims to inspire his contemporaries and future generations to be themselves, celebrate their uniqueness, and not conform to the masses. In February 2015 Mr. Calhoun is embarking on his "Blood on The Runway" tour starting during Couture Fashion Week in New York, and set to travel throughout various cities in the United States. "Blood on The Runway" means blood, sweat and tears, which is meant to inspire the younger generation to be fearless and express themselves as individuals.