Pearl jewelry is considered timeless. Whether you want to combine pearls with casual clothes, office clothes, or an evening dress, they always have the power to polish the overall look. Knowing a little more about pearls might just help us decide when and how to implement them in our fashion style. We don't want to overdo it and look tacky, but we want to deliver that classy, confident, and fashionable style.
There are many ways to style pearls to deliver a sophisticated look, but choosing between the different types of pearls depends solely on your style. From pendants, multi-strand necklaces, earrings, bracelets, or just implementing them into your clothes like a button-down cardigan with pearl buttons, they're all a great choice when you want to look classier than usual.
Below are some ideas you might consider if you are thinking about combining pearl jewelry with clothes.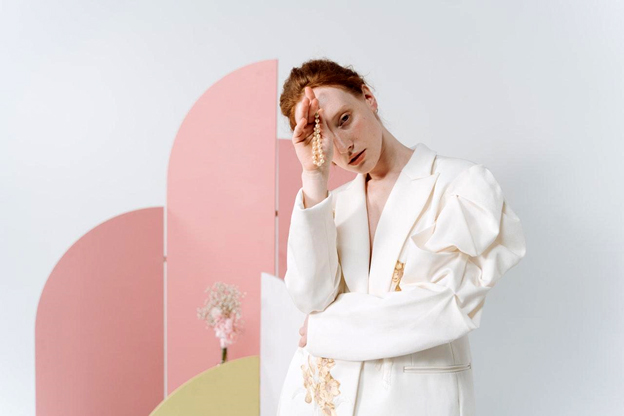 Color, shape, and type
We can start by choosing the right color, shape, and style. Most often we consider pearls as an elegant fashion statement, but rarely do we think about combining them with a casual or office look.
Pearls can come in different shapes. Besides the traditional perfectly round pearl, they can also have near-round, button, tear-drop, baroque, and circled baroque shape. They can be of various sizes, from 2 mm to more than 12 mm, but it all depends on our style and what statement we want to make. When it comes to color, they can be white, black, blue, gold, lavender, peach or pink, multi-color, chocolate, and so on.
Among the most famous types of pearls are Akoya pearls, Tahitian pearls, South Sea pearls, and Freshwater pearls. Each one has its special and unique beauty, hence the Akoya pearls are considered "the classic" because of their perfectly symmetrical and round shapes. They were first created in Japan in 1912, and the man responsible for bringing them to the world is Kokichi Mikimoto – the father of cultured pearls.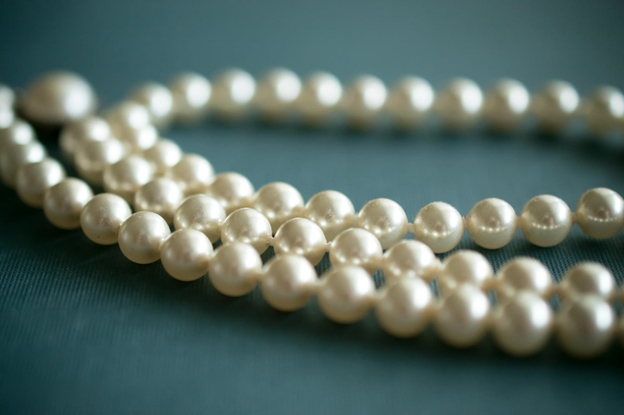 Style pearls with casual clothes
Most people are concerned about whether they can combine pearls with their favorite clothes no matter the color, but you just have to think outside the box and make sure you do it right. Look for ideas on how to wear pearls more confidently.
You can combine pearls with regular jeans, or black jeans, cardigans, sweaters, and other casual wear. Pick between necklaces, bracelets, earrings, and even rings. Classic pearls go well with clothes, but they need to be shown. Make sure the outfit is in simple colors or patterns for the pearls to be seen.
You can combine necklace strands, pendants, or pearl stud earrings, but remember to choose only one. Having more than one pearl jewelry can make us look overdressed if we want to go for that casual and minimalistic look. You can also consider wearing a simple pearl bracelet to elevate your style, or maybe some tear-drop earrings if you don't feel like putting on make-up. A simple accessory would be a choker pearl necklace or a pearl pendant.
Combine with elegant clothes
Elegant clothes are most often worn at formal events, and we usually combine them with flashy jewelry to look more stylish. Pay attention to detail. You don't want to wear a colorful dress and add pearls, no one will notice them on you! Make sure you choose the right color and material for the dress you want to combine with pearls.
You can choose a multi-strand necklace, or pearl drop earrings, or a beautiful and simple pearl bracelet. Remember Audrey Hepburn in Breakfast at Tiffany's? That's an iconic look to draw ideas from. You can also wear a full set of pearls – earrings, a bracelet, and a necklace, with a long gown or a black cocktail dress.
If you want your jewelry to blend in instead of stand out, here's a bit of advice in choosing which pearls to put on. For example, a white, silver, or pink Akoya pearl necklace would be a great choice, because the pearls are smaller and their tones are cool.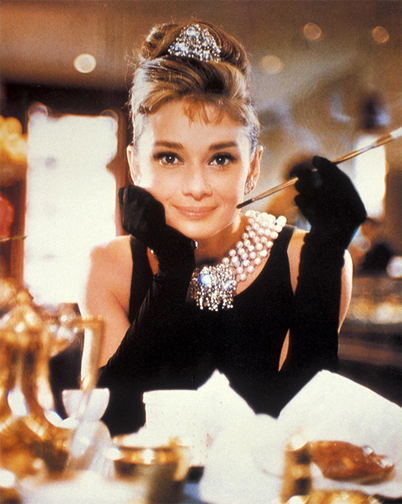 Wear pearls with office clothes
The first thing you need to consider is the company itself and your position. The position, industry, relation with supervisors, and corporate culture can play an important role in what you might be able to wear.
A simple and ideal example would be wearing formal clothing with a strand of white pearls on your neck. If you think about it, it's better to wear pearls than diamonds, since pearls give a sophisticated look without drawing too much attention. Also, look up some ideas on how to wear pearls at the office.
If you don't want to flash your pearl necklace, you can choose an alternative like rings or bracelets. Rings can be styled with almost anything, and give off that minimalist trend that is modern and stylish. A simple elegant bracelet with pearl elements will make you look refined, yet appropriate for the office space.
In Closing
We know diamonds are a girl's best friend but have you thought of pearls? We might just consider them as sophistication at its finest. Whatever color you choose, it will look good. We just have to know how to combine them with clothes, accessories, and hairstyle. In order to wear and present them, we need to think of the whole picture.
A piece of advice before purchasing or wanting to wear pearls is to know more about them. Read articles about how to combine them, when you can wear them, what you can put them on. Maybe some people consider them old-fashioned, but the fact is they are timeless. You will never go wrong in choosing a pearl necklace for an important event.