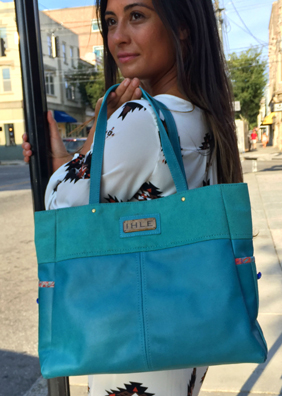 Designer Nancy Ihlefeld will present her latest collection for her IHLE BAGS label at the upcoming 25th season of Couture Fashion Week New York. The runway show will be held at 8:00 pm on Friday February 10, 2017 in the Broadway Ballroom of the Crowne Plaza Times Square Manhattan in New York City.
IHLE goes beyond trendy, with its own style of true luxury, creating handbags that are very eclectic, using bits and pieces of what designer Nancy Ihlefeld likes to call "a life well lived." Small batch artisan craftsmanship means every handbag is completely unique. All handbags are crafted in the USA some sort of variation within each of them. When they arrive in the arms of the consumer, each IHLE BAG embarks on its own journey, complementing the story of the amazing person carrying it. IHLE is anything but ordinary and designed with the extraordinary in mind.
"I've always had a passion for design and this silent mission to find what I was meant to do, yet nothing I pursued ever seemed to be the perfect fit, until now!" says designer Nancy Ihlefeld. "Having never really sewn more than a few hems, I taught myself to sew my first handbag on a 1950's sewing machine my uncle had picked up at a yard sale. Little did I know, this unique antique would sew my first collection! Three years later, through bursts of obsession and trial and error, I found myself happily developing not only a handbag line, but a company with products that reflect what I love and a brand that was becoming recognized and sought after," she says.
Since then, IHLE (pronounced 'eye-lee') has been striving to step out and put a stamp on this world and be a reminder to live this life like you mean it, create YOUR story! Often giving more than 50% of its profits to many organizations, IHLE intends to help and inspire people to live their life with purpose.