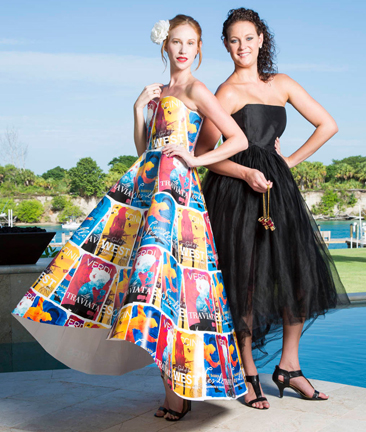 Opera Recycles presented by Opera Carolina will show a special eco-friendly fashion collection during Couture Fashion Week New York's 26th season. The highly anticipated runway show will be held at 4:00 pm on Saturday September 9, 2017 in the Broadway Ballroom of the Crowne Plaza Times Square Manhattan, 1605 Broadway, New York City.
Based in Charlotte, North Carolina, Opera Carolina has been a prestigious community institution for over 40 years. In 2015 Opera Carolina launched a new recycling initiative, Opera Recycles, with the intent to put outdated and extraneous printed marketing collateral to a creative and beautiful use. Since the initiative launched, more than 10,500 items of marketing material have been converted into eco-friendly fashion pieces. Through this initiative, Opera Carolina demonstrates its commitment to environmental consciousness and creative thinking. This innovative and strategic effort fosters interest and awareness in Opera Carolina as a cultural Charlotte institution and encourages creative and out-of-the-box thinking in regards to environmental problems facing organizations today.
Designers for the Opera Recycles initiative include both local and non-local artists. Keeping local artists engaged is an important part of the Opera Recycles initiative as it provides cross-promotional opportunities for the designers as well as Opera Carolina. The Opera Recycles initiative generates excitement for the upcoming Opera season as well as creative solutions to environmental problems. Last year, Opera Recycles participated in Couture Fashion Week during New York Fashion Week, featuring a dress designed by Garbage Gone Glam. This year, Opera Recycles was invited back to CFW to produce its very own fashion show featuring its whole collection. Opera Recycles will also be partnering again with local fashion organization, Charlotte Seen, and feature its dresses for 2017/18 at the Charlotte Fashion Week in September.