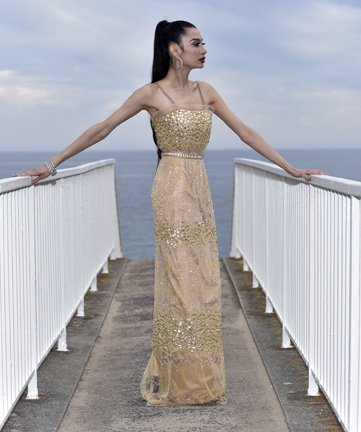 ZEE TV Presents Couture Fashion Week New York
The rush is on! Designer Andres Aquino will present his latest collection entitled "Glamour Rush" during the upcoming 24th season of Couture Fashion Week New York. The highly anticipated fashion show will be held at 8:00 pm on Saturday September 10, 2016, at the Crowne Plaza Times Square Manhattan, in the heart of the Big Apple. A dinner gala party will follow the show.
"Glamour Rush" is a fantastical place where time and fashion collide, and where music, art and fashion exist in harmony. It is a nostalgic look at the future, where the colors and shapes of the past take center stage.
The stunning luxury handbags which will accessorize the fashion collection are by VITVITY, inspired by the ancient Chinese arts, this is the first hand carved Chinoiserie style bespoke leather handbag collection ever introduced to the global market.  The intricate carving process, along with the delicate painting of the three dimensional leather and the embedding of exquisite natural pearls combine to produce the finest leather accessories in the world.
The dramatic hair creations to be seen on the models for this inspired show will be done by Tocco Magico of Italy and its team of master artists, bringing hair color and styling to another level.
A lineup of world-class performers is also set to delight the audience, including Romeo and Julia Saleno, the world's first pop opera couple; award-winning soprano and a favorite with CFW audiences, Elisabetta Russo; soprano Victoria Miningham, who will also walk the runway in an Andres Aquino gown; acclaimed jazz songstress Candace Woodson, soprano Raquel Suarez Groen, who recently made her debut with Opera Carolina; rising pop star Magdalena G; and soprano Veronica Iovan, who has been delighting CFW audiences for many seasons.
Andres Aquino is known for his theatrical productions combining multiple creative elements such as singing, dancing, visual art, and dramatic hair and makeup, but always presenting wearable couture designs.  His work has been featured in major publications and programs worldwide, and he has shown his designs at prestigious fashion events in Dubai, India, France, Mexico, the Caribbean, Romania, and Nepal, among others. Mr. Aquino is the founder and producer of Couture Fashion Week as well as the founder and director of the Global Short Film Awards Festival (New York-Cannes). Mr. Aquino recently partnered with the ZEE TV network to bring content from his show and highlights of other Couture Fashion Week shows to one billion viewers in over 170 countries.