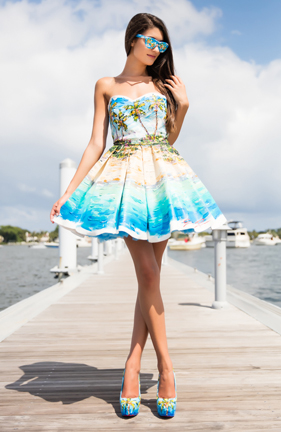 These pieces of art are designed to go from your wall to your wardrobe
Palm Beach designer Kristen Alyce and Florida native artist Sarah LaPierre, have partnered their skill and passion to launch VIVRE Canvas Couture, a luxurious new high-end collection of handmade, hand painted couture gowns and accessories. The debut release for the Palm Beach Collection, and the brand as a whole, will be during Couture Fashion Week New York. The fashion show will be held at 4:00 pm on Saturday September 10, 2016 in the Broadway Ballroom of the Crowne Plaza Hotel in Times Square New York. Models will be draped in genuine hand painted artwork as they walk the catwalk.
The line is based in the famously beautiful city of Palm Beach on the South Florida coast. In this debut collection each handmade gown, cocktail dress, bow tie, purse, and pair of shoes represents the life and experience on the luscious tropical island of Palm Beach. Each item is carefully crafted of fine artist canvas and linen and entirely hand painted. Each garment, made from 100% canvas and covered in thick bodied acrylic paint, requires a minimum of 5 fittings, and takes anywhere from 8 to 80 hours to create from start to finish.
"No matter the weather, always bring your own sunshine," is the inspiration for this collection. The Palm Beach paradise portrayed on these garments is breathtaking. Not only because you wish to be sitting among the lush palm trees and blue waters this autumn as the northern leaves fall, you can truly admire and bask in the bright turquoises, yellows, and pinks in the depth of the paintings themselves. The collection is already turning heads of the world's elite. With prestigious clients from both the designer and artist, this line is already on its way to the top.
About VIVRE Canvas Couture
VIVRE Couture is an organic partnership between a designer and an artist, founded in April 2016. Kristen Alyce and Sarah LaPierre, both from West Palm Beach, Florida, came together with a vision for an inspired line of wearable original paintings with the highest quality elements of art, design, and construction. VIVRE Couture pieces are worthy of any art collection or gallery exhibition, and excitingly wearable for those premier life moments. Accessories of each collection are suitable to complement a full VIVRE ensemble, as well as the perfect statement piece to define a well curated look.