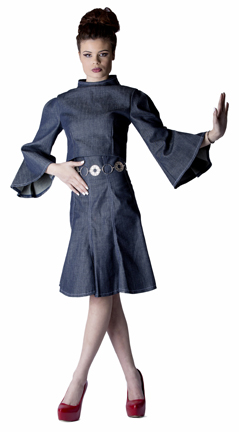 Texas-based designer Evelyn Suzette (Scales) Johnson will return to Couture Fashion Week New York with the presentation of the latest collection for her UpScales Fashions 43 label.  Part of the 24th season of the prestigious event, the fashion show will be held at 6:00 pm on Saturday September 10, 2016 at the Crowne Plaza Times Square Manhattan, 1605 Broadway, at the "Crossroads of the World."
UpScales Fashions 43 is a fashion brand driven by the goal to design beautifully fitted clothing that makes the wearer comfortable and happy, reflecting each client's unique personality.  It especially strives to create a new dimension on the use of denim. Many designs are inspired by "retro" silhouettes and styles, especially from the 1960's.
Designer Evelyn Johnson holds a degree in Electrical Engineering and Computer Networking Engineering and has worked in the electronics field for more than 30 years. She currently works at Texas Instruments in Dallas, Texas.  Her true passion has always been fashion, however, and she is now making that dream a reality with her own clothing line, UpScales Fashions 43. Ms. Johnson's love for fashion began with a needle and thread at the age of 7, and she soon learned to use her mother's sewing machine.  After high school she worked at Levis Strauss & Co. for 10 years, where she gained experience making professional jeans as well as discovering  her love for denim fabrics. This valuable knowledge and experience led to the launch of her own company.
"The smile and joy that clothing a person brings, makes me want to do this more and more every day —I find that this is my true calling." says  Evelyn Johnson.  "My dream is to one day clothe America  — all sizes, shapes, and ages."
For more information visit www.upscalesfashions43.net