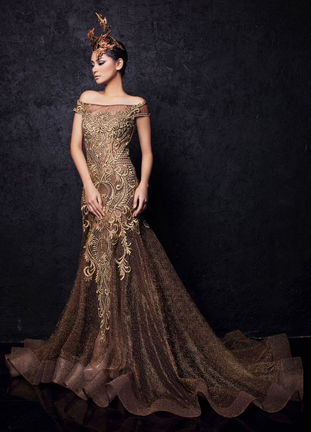 Top Indonesian fashion designer Meggie Hadiyanto will present her latest collection entitled "Wayang" during Couture Fashion Week in New York City. The highly-anticipated fashion show will be held at 6:00 pm on Saturday February 11, 2017 at the Crowne Plaza Times Square Manhattan at the "Crossroads of the World."
"Wayang" is a Javanese word for a theatrical performance with puppets or dancers. Ms. Hadiyanto's design inspiration for this collection is one of the most famous wayang stories about Arjuna who had several goddess wives. This story is often portrayed in Indonesian art events through wayang performances. Through her stunning fashion creations, the designer strives to convey the values and themes of the story: romance, art, culture, heritage and the Javanese vernacular in a collection filled with elegance, glamour and allure. The color palette is a perfect complement to this vision: gold, bronze, rich brown, maroon, dark blue and black. The wayang is illustrated on the fabrics and in the meticulous embroidery.
Meggie Hadiyanto launched her fashion design career in 2009 with her first brand Zeevanco, focused on evening gowns and party dresses. The brand enjoyed great success, including sales through major Indonesian department stores SOGO and SEIBU. She has shown her designs at major fashion events including Hong Kong Fashion Week.
Click for tickets and more information.