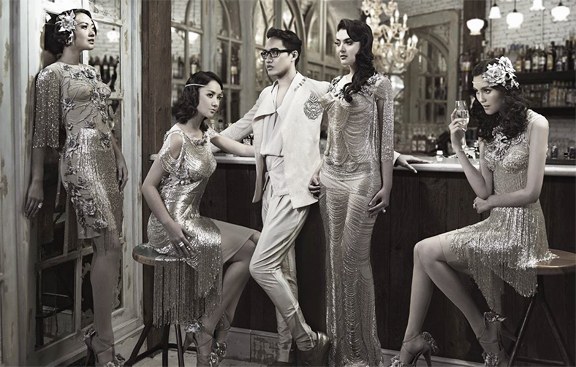 Renowned Indonesian designer Barli Asmara will present his latest impeccable collection at the upcoming season of Couture Fashion Week in New York City. The runway show will be held at 4:00 pm on Saturday February 14, 2015 in the Broadway Ballroom of the Crowne Plaza Times Square.
Barli Asmara discovered his passion for art and fashion at an early age. Following his dream, he launched his signature label in 2002, producing high-end ready-to-wear and couture womenswear. Today his designs include couture, bridal and business wear, as well as menswear.
Mr. Asmara's beautiful and distinctive designs have garnered many accolades and awards including AMICA Young Talented Designer Award, ELLE Designer of The Year, Bazaar Wedding, one of the Best 20 Designers for High End Masterpiece, Kartika Magazine's Best Designer of The Year, as well as one of Dewi Magazine's best Indonesia Fashion Designers of 2008. Mr. Asmara served as designer for the 2011 Puteri Indonesia pageant and for the winner, Nadine Alexandra, when she went on to compete in the Miss Universe pageant. He was part of Indonesia's DKI Jakarta Dinas Pariwisata delegation at the Melbourne Festival, and a participating designer in multiple editions of the Rumah Pesona Kain fashion event, as well as the International Textiles and Costume Congress in 2011. He has shown his collections at prestigious fashion events including Jakarta Fashion Week, Indonesia Fashion Week, Mazda Marie Claire Fashion Show, and Bazaar Movie Textra, to name just a few. He is a member of IPMI (Ikatan Perancang Mode Indonesia, the Indonesian Fashion Designers Association).
Barli Asmara is dedicated to representing the beauty and richness of Indonesian handcrafts and classic artisan techniques in his collections which are known for the their exquisite detailing. He is known for his skillful use of beads, pearls, jewels, fringe and feathers as alluring fashion details, along with macramé, smocking, and embroidery.