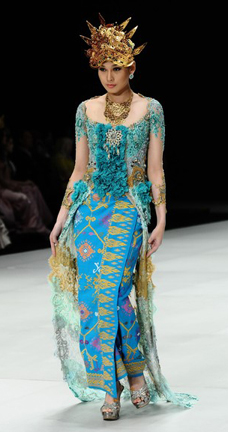 Famed Indonesian designer Asri Welas will present her latest stunning collection during the upcoming Couture Fashion Week event in New York City. Marking the designer's first appearance at CFW, the fashion show will be held at 6:00 pm on Saturday February 14, 2015 in the Broadway Ballroom of the Crowne Plaza Times Square Manhattan, 1605 Broadway, in the heart of the Big Apple. The designer will also have an exhibit of her designs during all days of CFW, February 13-15, 2015.
Asri Welas is a well-known TV actress, presenter and broadcaster in Indonesia. She launched the House of Asri Welas fashion brand 9 years ago, with a focus on designing exquisite kebayas, the traditional blouse-dress ensemble widely worn throughout Indonesia, Malaysia, Singapore and neighboring countries. A graduate of the University of Indonesia with a degree in Political Science, Asri Welas has shown her fashion designs at Indonesia Fashion Week. Her designs are sold in several stores in Indonesia, and she has cast her eye on the American and European markets as her brand continues to grow.
The House of Asri Welas produces its own high-quality fabrics for its garments and accessories, and often supports native artisans who create the accessories used in Asri Welas's fashion shows. Asri Welas's designs also help preserve the unique and valuable cultural heritage of Indonesia, while bringing it to international attention. Upcoming collections will include more casual kebayas for everyday wear.
The collection Asri Welas will present at her American debut during Couture Fashion Week in New York is inspired by the cultural and ethnic diversity of Indonesia and the rich natural beauty of the country's islands. Her design approach is "back to nature", featuring a palette of natural plant and animal colors, as well as a harmonious blend of unique fabrics and accessories inspired by Indonesian culture. Ms. Welas hopes to promote the globalization of traditional Indonesian designs, and is supported by iB Hasanah Card BNI Syariah.