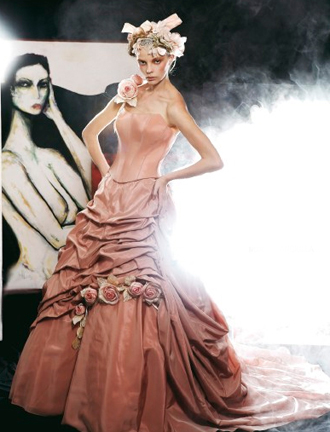 In its first appearance at Couture Fashion Week New York, renowned Italian bridal and couture brand Solo Sposa Italy will present its latest collection in a much-anticipated fashion show. The event will be held at 8:00 pm on Sunday February 15, 2015 in the Broadway Ballroom of the Crowne Plaza Times Square Manhattan, in the heart of the Big Apple.
Solo Sposa Italy has been one of the most important bridal fashion and couture brands in Italy for over 30 years. Since the beginning, Solo Sposa's distinctive creations have been characterized by a sophisticated elegance, like the brides that choose to wear them on the most important day of their lives.
Many top Italian fashion brands today choose to manufacture most their collections outside of Italy to cut costs and increase profits, often affecting the general quality and image of their products. But Solo Sposa's design and production are proudly "100% Made in Italy", optimizing costs and focusing on the excellent quality of materials and finishes that have always distinguished the brand.
For 2015, Solo Sposa has developed exciting new lines with new design concepts, leveraging on a time-honored classic tradition of craftsmanship. The meticulous and detailed handcrafted work is highly precise, and not possible if done in mass production or in manufacturing outside of Italy.
The 2015 collection features the use of the world's first patented illuminated fabric. Solo Sposa has partnered with the young vibrant Irish Company 'MayCor' for product development and distribution of this innovative fabric with unlimited product possibilities.
As the exclusive Solo Sposa Italy brand continues to grow, it is looking to expand the range of its current catalog production through offering special customized services and "exclusively made for" collections to high-end boutiques and department stores, ensuring that no other retailer in Italy or worldwide will have exactly the same designs. In addition, the pricing of the exquisite new collection for 2015 is very attractive for both the wholesale and retail customer.