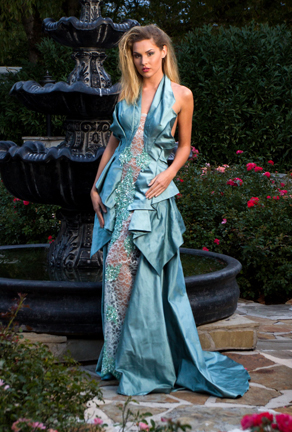 Rising artist Rose Sharifi will present her latest breathtaking collection at Couture Fashion Week New York's 25th season. Marking the designer's debut appearance at the prestigious event, the fashion show will be held at 8:00 pm on Friday February 10, 2017 in the Broadway Ballroom of the Crowne Plaza Times Square Manhattan, in the heart of New York City. Rose Sharifi will also showcase her designs in an exhibit display on the following day, Saturday February 11, 2017.
The love for creating hand-crafted art to bring dreams to life is the essence of Rose Sharifi line. The love and care that goes into each crafted design makes each one a unique masterpiece that tells a story to delight the senses. Rose Sharifi is a Persian artist fascinated with the elegance and beauty of couture. Starting with painting at a very young age, she has always been passionate about delicate art and carefully hand-crafted illustrations.
Rose Sharifi's latest collection, "An Exotic Bloom", tells a story of growth and blooming. It is about a woman who celebrates her beauty and softness, her strength and her achievements. Each dress has been carefully designed to bring the look of luxury to the body of wearable art. The sheen of high quality silk fabrics and creative 3D effects of exotic hand-made lace are the main elements used to create the luxury feel along with a sense of artistic joy.  Visit www.rosesharifi.com to see all of the hand-crafted dresses made by Rose Sharifi.