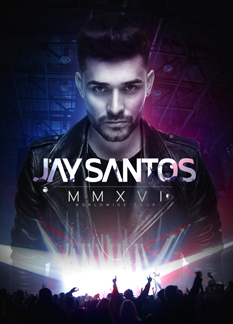 European singing sensation Jay Santos will perform at the upcoming Global Short Film Awards gala. The event, which will include fashion shows and awards presentations in addition to world-class entertainment, will be held on Saturday May 21, 2016 at the Intercontinental Carlton in Cannes, France.
A native of Bogota, Colombia, Jay Santos moved with his family to Rome, Italy at age 11. Soon after,  he started building his music career, learning to play piano, guitar and drums. Influenced by Italian music and his Latin roots, Jay Santos created an original and unique rhythm with his music. At age 17, Jay moved to Madrid, Spain, where he continued to pursue his music career, writing songs, playing instruments and recording at small studios. In 2012 Jay debuted his first single Noche de Estrellas featuring Jose De Rico and Henry Mendez, produced by Roster Music. The song immediately rose to the top of the Spain singles charts and won a "Golden Record." It now has more than 20 million views on YouTube. In 2013 Jay released Caliente, his first solo single produced by the Blanco y Negro company. In less than a month Caliente became the most watched video on YouTube in Spain, the top selling song on iTunes Spain, and the "summer hit" in many countries such as France, Switzerland, Belgium, Spain, Italy and Chile. To date, the song has over 60 million views on YouTube around the world. At the end of 2013, the artist founded his own record label Envimusic. By this time he had established himself as an entrepreneur, without leaving his music career behind. Jay Santos has performed at more than 200 concerts worldwide and is widely considered to be the #1 Latin/Dance artist in Europe.
In April 2015 Jay Santos released Dale Morena, another instant hit with a lot of rhythm that differs from other "Electro dance" songs. In November 2015 he released Ya te olvidé, his first Reggaeton song that impressed all of his fans with an explosion of rhythm combined with Latin sounds. In May 2016 Jay will release his brand new single Tu Y Yo. According to Stefano Pugnali, the artist's manager, the new single features lots of rhythm, sensual lyrics, and a catchy vibrant melody in Reggaeton style. It will be premiered at the GSF Awards gala in May 2016, and is sure to soon be heard on dance floors everywhere.