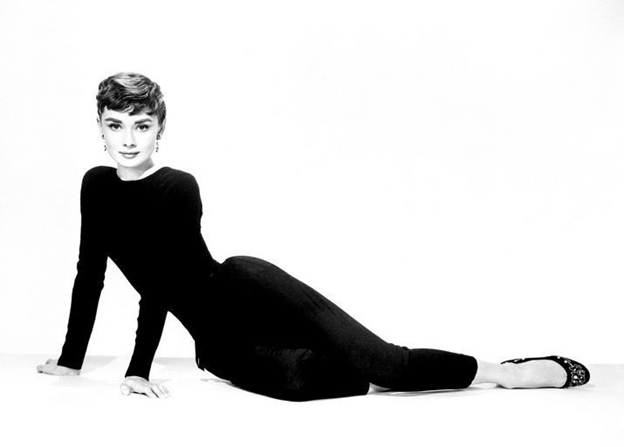 Funny Face is an iconic fashion-forward movie that features Fred Astaire as Dick Avery, Kay Thompson as Maggie Prescott, and of course, Audrey Hepburn as Jo Stockton. The film revolves around Jo Stockton and her incredible fashion sense that lands her a lucrative career as a model. The outfits worn by Audrey Hepburn are just as memorable as her performance.
If you want to add a little bit of that Audrey Hepburn flair to your wardrobe in a way that suits your personal style and body type, these ideas are sure to impress you and your friends.
Audrey Hepburn's Body Type: Boyish, Straight, Short Torso
Men and women come in all shapes and sizes. All body types can express themselves in different ways and even in a similar fashion to a different body structure, but some garments will fit better on a specific frame. Since Audrey Hepburn has a boyish, straight figure, you may need to tailor the outfit, so it brings out your best features.
Create Your Own Outfit From These 4 Classic Looks
"More Flowers" Dress
When Audrey dons her first photo shoot outfit, she and photographer Dick Avery go into a local flower shop to shoot. In the scene, real flowers line the foreground to compliment her outfit's printed-on perennials. Topped with a sun hat and gloves, Audrey looks summery and high-class.
You can add an extra element to this outfit for a start. For example, the dress features one type of flower, but you can use a different plant for your dress, like roses. To complete the dress, add real roses from Bouqs.com as accents for your hat or to create a corsage. This style of dress with the kimono cap sleeves can look great on almost anyone, even if you have a large bust.
Bonjour Paris! and Jazz Club Outfit
One of Audrey's most iconic outfits in the film is her Bonjour Paris + Jazz Club ensemble. The overcast skies are perfect for a beige trench coat and black clothing as it suits the mood while staying fashion-forward. Beige trench coats are a French staple and should be in every woman's wardrobe.
A black turtleneck, black pants, and black shoes are underneath her coat. All black can appear plain on some people, but Audrey pulls the outfit off with her winning smile. Curvier girls may want to wear high-waisted pants over their turtleneck instead of the above. Add an extra "wow" factor and with a neon-colored bag or add a statement necklace that hangs lower than the armpit.
Anna Karenina Suit
Audrey wears the Anna Karenina suit for her Paris photoshoot while a train engine blows steam in the background. Her frame and demeanor make her look like royalty, and the muted grey suit complements her skin tone. A medium-sized hat frames her face and looks dramatic.
Not everyone can wear skirts that long without looking short. If you're under 5'7", you should wear a skirt that sits above the knee. The suit jacket can be longer than the skirt as long as it's A-line and not fringed. It may be difficult to find Audrey Hepburn's hat, so go without one. If you're putting your hair up, don't forget to add studded earning or hoops for a more modern look.
Bird of Paradise Skirt/Dress and Crop
It's unclear whether or not the Bird of Paradise outfit is a skirt with a cropped top and train or a dress with a floating panel. Either way, the layered high cut front that shows off the waist, tiara, gloves, and long skirt looks incredibly high fashion, but would be difficult to walk in for daily wear.
Cropped blouses are still incredibly fashionable. If you remove the floor-length train, the top would fit right in for daily wear. You can choose to layer the top over a dress, but it may be easier to wear a white skirt or burgundy pants if you're walking. Feel free to wear the long opera gloves or tiara for the high fashion finish. To modernize the look, wear motorcycle gloves or barrettes.