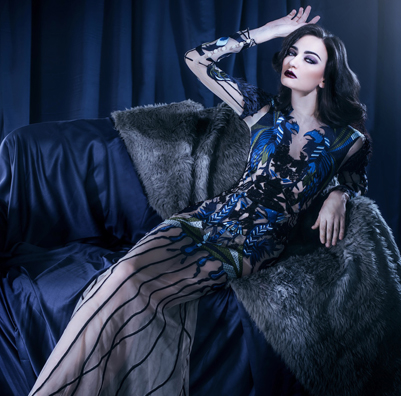 Acclaimed Indonesian designer Diana Putri will present her latest collection for her Diana Couture label at Couture Fashion Week in New York City. Marking the designer's first appearance at the prestigious event, the highly anticipated runway show will be held at 6:00 pm on Friday September 11, 2015 in the Broadway Ballroom at the Crowne Plaza Times Square Manhattan.
Established from Diana Putri's passion for fashion, Diana Couture was launched 7 years ago and has grown to be one of the most successful couture brands in Surabaya, Indonesia. The company's clients include A-list Indonesian, Chinese and Korean socialites and celebrities.
Ms. Putri's artistry is focused on the custom bespoke side of couture, catering to the exacting demands of her clients. She is known for her distinctive use of both elegant and daring concepts balanced in couture designs. Diana Putri herself is an A-list designer in Surabaya, Indonesia, and she is now looking to expand to a more global market. Her upcoming show in New York is a special opportunity to bring her designs to new audiences with the support of Hasanah Card BNI Syariah.
Diana Couture's latest collection is entitled "Garuda", inspired by the Garuda bird, symbol of the official philosophical foundation of the Indonesian state. The mythical creature, possessing exceptional agility and force, reflects the fierce nature of this collection; designs for a strong woman. However, the Garuda bird's fierce attribute is balanced with its famous majestic and elegant copper-toned feathers. In this collection, Diana Couture strives to convey the versatile majesty of the Garuda bird through various techniques including the use of brocades, embroidery, and the innovative use of laser cuts. The goal is to balance a chic yet fierce collection inspired by the Garuda bird in a modern implementation. Through this collection, Diana Couture wishes to spread its wings, like a Garuda bird, and reach out to a more international audience.
Click for tickets and more information.
#cfwnyc #newyorkfashionweek #couturefashionweek #dianaputri