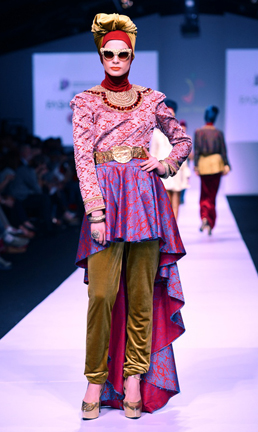 Award-winning Indonesian designer Dian Pelangi will present her latest collection on the runway at Couture Fashion Week New York. Marking the designer's first appearance at the event, the highly-anticipated fashion show will be held at 4:00 pm on Saturday February 14, 2015 in the Broadway Ballroom of the Crowne Plaza Times Square in the heart of New York City.
Dian Pelangi studied fashion design and pattern making at the Ecole Superieure des Arts et Techniques de la Mode (ESMOD) in France. She is a young prolific entrepreneurial fashion designer pioneering and pushing the boundaries of Muslim fashion both nationally and internationally. She draws inspiration from the colors of the rainbow which is reflected in her multi-talented skill set and fine eye for detail, color and artistic flair. Her trademark style includes vibrant color palettes and an unwavering loyalty to traditional Indonesian artisan techniques of vivid tie-dye, exquisite songket and lavish batik.
The designer's elegant and unique amalgamation of traditional and modern, of design and art, of sacred and universal, has established Ms. Pelangi's place of influence among a broad demographic of fashion followers. Her growing clientele includes singers Dewi Sandra and Siti Nurhaliza, as well as royals Princess Basma Bint Talal of Jordan and Princess Nadja of Hanover (Germany).
Ms. Pelangi has presented her collections at prestigious fashion events in Paris and London, as well as at Jakarta Fashion Week. She was featured by CNN as one of the "Future Top Indonesian Designers of 2010", and named one of the 24 "Most Inspiring Women of 2013" by Tabloid Wanita Indonesia Magazine, as well as one of SWA Magazine's "50 Indonesian Business Women of 2012." She is also the youngest member of Asosiasi Perancang Pengusaha Muda Indonesia (APPMI) which in 2012 published her best-selling book Hijab Street Style. Her designs have also been featured in international publications, and she has served as brand ambassador for Wardah Cosmetics, Pertamina-Pertamax and AMD Processors.