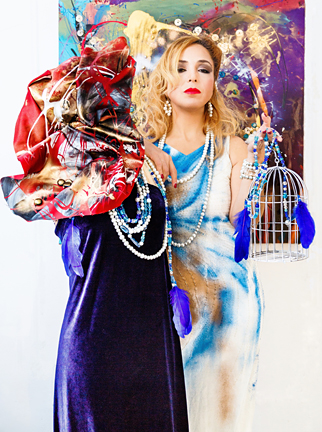 New York City artist-designer Alexandra Popescu-York will present her latest couture fashion collection entitled "Âme de l'artiste" (Artist's Soul) at 6:00 pm on Sunday, February 15, 2015 during the 21st season of Couture Fashion Week New York. The fashion show will be held at the Crowne Plaza Times Square Manhattan, at the "Crossroads of the World." This marks Ms. Popescu-York's third consecutive season participating in the prestigious fashion event. She is the only artist-designer thus far to have simultaneously showcased both a collection of high-fashion couture as well as paintings during the event. The artist-designer made her first major debut in New York City in February 2014 during Couture Fashion Week.
Born and raised in the Romanian capital of Bucharest, Alexandra Popescu-York began her artistic journey at the age of three, influenced by her mother. Trained by renowned artists and professors, she studied fashion and visual arts at the renowned National University of Arts in Bucharest. With a rich record of exhibits and fashion shows nationally and internationally, as well as a body of artistic work that is emotional, vivid and symbolic, Alexandra Popescu-York's unique style bridges fashion and the arts, making her mark on the New York fashion stage with memorable couture collections that bring the unexpected.
The designer's inspiration for her Fall/Winter 2015 collection is the soul of the artist — intricate, complex individuals, who live in surrealist worlds. Just as in surrealism, Ms. Popescu-York brings her vision to life by juxtaposing unconventional elements and using techniques that do not necessarily interrelate, yet come together in seamless harmony, delivering high-end fashion. The "Âme de l'artiste" collection features Art Deco silhouettes, innovative tailoring and sophisticated fabrics, all bound in a unique style that carries the brand and signature of artist-designer Alexandra Popescu-York.
For more information about Alexandra Popescu-York's couture fashion and art collection, visit www.alexandraartanddesign.com
Click for tickets and more information on Couture Fashion Week.