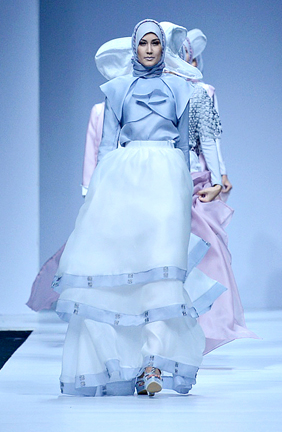 Famed Indonesian designer Zaskia Sungkar will show her latest collection at Couture Fashion Week New York in her premiere appearance at the prestigious event. The fashion show will be held at 4:00 pm on Saturday February 14, 2015 in the Broadway Ballroom of the Crowne Plaza Times Square Manhattan, 1605 Broadway, in the heart of the Big Apple.
Zaskia Sungkar is a well-known celebrity in the world of Indonesian entertainment, film and television. After establishing her career in the entertainment industry, she discovered her other passion: fashion. She has gone on to pursue her love of fashion with the launch of her signature Zaskia Sungkar label. Zaskia Sungkar boutiques can be found in a number of cities in Indonesia and neighboring countries.
For her debut at Couture Fashion Week in New York, Zaskia Sungkar will present her latest collection entitled "Mandalika", inspired by the grace and beauty of Princess Mandalika, a mythical character from legends told in Nusa Tenggara Barat, a province in Indonesia.
Zaskia Sungkar's designs use only the finest handmade fabrics, both woven fabrics and the famous songket brocade fabrics native to Nusa Tenggara Barat. These exquisite and intricate fabrics are made by hand with a special wooden tool requiring exceptional skill and labor by the artisan weavers. It can take around a month to make a piece of fabric 3 meters (about 10 feet) long, and the total processing time can be about 3 months, depending on the color details and pattern or motif of the fabric.