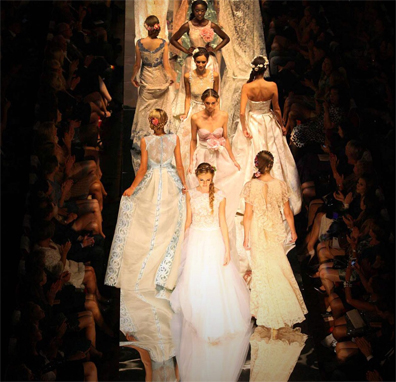 Award-winning Dutch designer Addy van den Krommenacker will show his latest collection at the upcoming 23rd season of Couture Fashion Week New York. The highly anticipated fashion show will take place at 8:00 pm on Sunday February 14, 2016 in the Broadway Ballroom of the Crowne Plaza Times Square Manhattan, 1605 Broadway, at the "Crossroads of the World."
Mr. van den Krommenacker has had a great interest in fashion since childhood. He began his career as a fashion retailer and buyer, and his expert fashion advice soon became sought after by many Dutch celebrities including Sandra Reemer and Willeke Alberti en Jette van der Meij. After selling clothes by international designers for a number of years, Mr. van den Krommenacker launched his own collection in 2001, and his career really took off.
Mr. van den Krommenacker's first designs were shown at the Beau Monde Fashion Awards in 2002, and in 2003 he launched his entire haute couture collection. Since then, he has shown his designs at many prestigious fashion events including Alta Moda in Rome, Jakarta Fashion Week in Indonesia, Amsterdam Fashion Week and Perth Fashion Week in Australia, as well as at events in Kazakhstan, Sarajevo, Montenegro, Belgium, Budapest, Sicily, and Kuala Lumpur, among others. His designs have also been featured on the hit TV show America's Next Top Model, in which top model and host Tyra Banks wore a stunning gown specially designed by Addy van den Krommenacker. The episode aired in over 130 countries. His designs have been worn by many international celebrities and socialites including actress Thekla Reuten who wore one of his gowns at the Academy Awards in Hollywood, Glennis Grace who performed in one of his gowns at the Eurovision Song Contest, Australian top model and pro golfer Anna Rawson, actress Carly Steel, actress Sofia Milos (CSI Miami), singer Mayra Veronica, three-time golden Globe Award Winner Mary Lou Henner, and Dutch celebrities including Tooske Ragas, Chantal Janzen, Estelle Cruijf and Wendy van Dijk. He has designed bridal gowns for the wives of soccer stars Ruud van Nistelrooy, Wesley Sneijder and Joris Mathijsen, among others. He has shown his designs at the Cannes Film Festival where Courtney Love and Lady Victoria Hervey both wore dresses designed by him.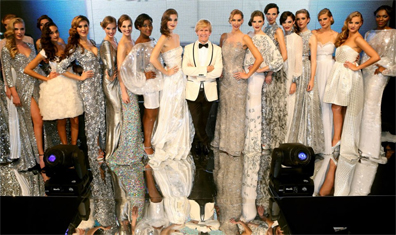 His numerous accolades include being awarded membership to the prestigious Swiss Camera Nazionale Moda in Lugano and being knighted into the Order of Orange-Nassau by Her Majesty Queen Beatrix in recognition of his outstanding work and achievements in Dutch fashion. The real pinnacle of his career, however, was being requested to design a wedding gown for Princess Carolina of Bourbon-Parma. Both the veil and gown featured heirloom embroidery lace, which had originally been worn by her mother, Princess Irene, on her wedding day almost 50 years before. This spectacular gown was then perfectly complemented by two elegant Krommenacker outfits for both the mother and sister of the bride on that special day. During the inauguration of King Willem Alexander in 2013 in Amsterdam, the Princesses Irene, Margarita, Annette and Aimée, as well as the wife of the mayor of Amsterdam, Femke van der Laan wore creations by Mr. van den Krommenacker.
Recently, Addy van den Krommenacker launched his signature perfume, "Red Carpet," and began a collaboration with the fashion chain Steps to create an affordable collection for a wide audience.