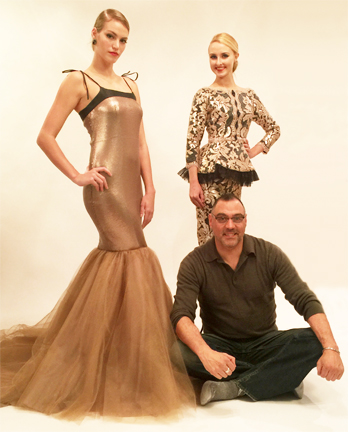 In his fifth appearance at Couture Fashion Week New York, award-winning designer Luis Machicao will show his latest collection on the runway at 6:00 pm on Friday February 13, 2015. The highly-anticipated fashion show will be held in the Broadway Ballroom of the Crowne Plaza Times Square Manhattan, 1605 Broadway, at the "Crossroads of the World".
A native of Peru, now based in Charlotte, North Carolina, Luis Machicao has shown his collections at fashion shows around the world since 1991. He was commissioned by the President and First Lady of Peru to serve as a style ambassador in view of his stellar career and impeccable taste. He has dressed Latin American presidents, celebrities and socialites, including television and theater personalities, and he has designed for 16 motion pictures worldwide. His public persona and designs have been featured in some 240 magazines including Southern Living, South Park Magazine, Society Magazine and Vanidades, the Spanish language version of Vanity Fair.
After presenting his Spring 2014 Collection at New York's Couture Fashion Week, Mr. Machicao won the coveted "Best Designer" award in Paris at Tiffany Fashion Week, making him the most high profile designer from Charlotte, and the only one showing in the world's fashion capital.
Mr. Machicao recently launched his own fragrance line for men and women.