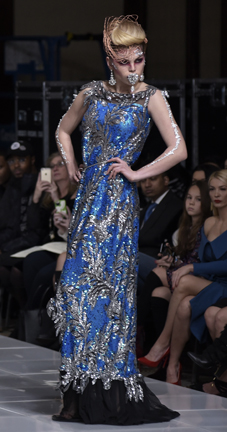 Top New York designer and artist Alexandra Popescu-York returns to the 27th season of Couture Fashion Week New York with the launch of "Magnetic," her newest luxury dress capsule collection. Marking the Ms. Popescu-York's ninth consecutive season showing at the prestigious event, the fashion show will be held at 6:00 pm on Saturday February 10, 2018 in the Broadway Ballroom of the Crowne Plaza Times Square Manhattan.
Each of Ms. Popescu-York's one-of-a-kind fashion creations offers a show-stopping look with avant-garde components that are part of the designer's signature: rare materials, ultra-bright and edgy makeup, outstanding hairdos, and accessories such as frames, jewel-encrusted mouth pieces, and even crystal lighting appliances. The "Magnetic" collection set to premiere at Couture Fashion Week New York, will clearly be no exception.
In addition to her highly-anticipated fashion show, the renowned artist-designer has also been commissioned, yet again, by her most fervent patron, Couture Fashion Week producer and designer Andres Aquino, to create a large-size framed painting that will adorn the exhibition area of the event this season.
For eight consecutive seasons, Ms. Popescu-York  has wowed critics and audiences with dazzling fashions and monumental art collections illustrating her prolific imagination, inspiring boldness and laborious work channeled into elaborate, symbolic depictions of finely-selected themes, such as: "Joie de Vivre" ("Joy of Life"), "Modern Warrior Queen," "Tour du Monde" ("World Tour"), "Unleashed" – a unique tribute to the emblematic New Yorker –, "Âme de l'Artiste" ("Soul of the Artist"), "Phoenix – The Legend", "Metropolitan" – inspired by some of The Metropolitan Museum of Art's history, civilization and art features –, and "GranD'Or", a collection based on Ms. Popescu-York's own artistic creations.
Alexandra Popescu-York, who holds an Honors Degree in Arts and Design, was recognized as Couture Fashion Week New York's Best Designer in September 2016, and recently had her paintings included in the United Nations' 70th Anniversary International Art Exhibition in New York.