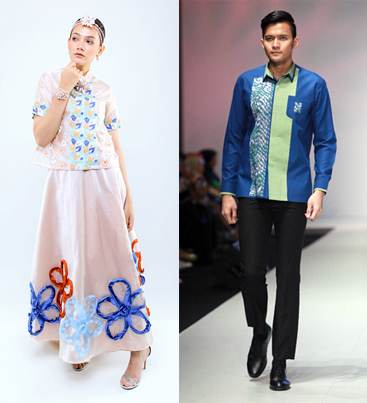 Top Indonesian fashion designers Yurita Puji and Agus Lahinta will present their latest creations at Couture Fashion Week New York's 26th season. Marking the designers' debut at the prestigious New York Fashion Week event, the runway show will be held at 6:00 pm on Sunday September 10, 2017 at the Crowne Plaza Times Square Manhattan, in the heart of the Big Apple.
Yurita Puji has dedicated her talent to help market Indonesian traditional fabrics through her design collections.  She launched her signature brand in 2009 and has done many fashion shows both in Indonesia and internationally, including New York Fashion Week in 2016.
This season at Couture Fashion Week, Ms. Puji will present her new collection featuring KARAWO, the ancient embroidery technique native to Gorontalo, North Sulawesi, Indonesia.  Karawo is one of the oldest Indonesian traditions, now slowly disappearing, with only a small number of women crafters working in it. Ms. Puji's mission is to preserve this ancient tradition by using Karawo in her designs and marketing them in Indonesia, and now showing them to the world. Her efforts have a great positive effect not only in preserving this timeless practice and protecting the livelihoods of these talented Karawo artisans, but also in raising international consumer and trade awareness of these beautiful fabrics.
Ms. Puji has used other traditional Indonesian fabrics in her designs, including Ikat/Tenun from the East Nusa Tenggara region which she used in her creations shown in 2016 during New York Fashion Week to great critical acclaim. Ms. Puji's designs are sold in Jakarta at Alun Alun Indonesia and at her workshop, Armoire Cabinet. She is active in the Indonesian Women's Association of Entrepreneurs (IWAPI) and the Indonesian Designers Association (APPMI). Her collections will be available online for the US market at Gallery of Indonesia's online shop by end of this year.
Agus Lahinta is a fashion designer and owner of the Rumah Karawo boutique in Gorontalo, North Sulawesi, Indonesia. Launched in 2014, Mr. Lahinta's business is dedicated to the preservation, promotion and use of Karawo, the ancient embroidery technique from Gorontalo. Mr. Lahinta is famous as the Karawo designer for men's collections. He is dedicated and passionate in his work with Karawo artisans, creating distinctive menswear designs of the highest quality. He has received support from the Indonesian Central Bank in Gorontalo in his efforts to develop and promote Karawo nationally and internationally. He is a Young Entrepreneur member of the Central Bank of Indonesia (Bank Indonesia). Their mission is to boost the local economy by working with young entrepreneurs and preserve the local culture and traditions.
At Couture Fashion Week this season, Mr. Lahinta will show "Touch of Karawo" for men, an ethnic modern collection. He has presented his designs at many important fashion events, including Indonesia Fashion Week.
Yurita Puji and Agus Lahinta are currently working with Gallery of Indonesia as they enter the international market. The mission of Gallery of Indonesia is to promote Indonesian talent and products on the global stage. 2017 marks Gallery of Indonesia's second year bringing top Indonesian talents to New York Fashion Week.