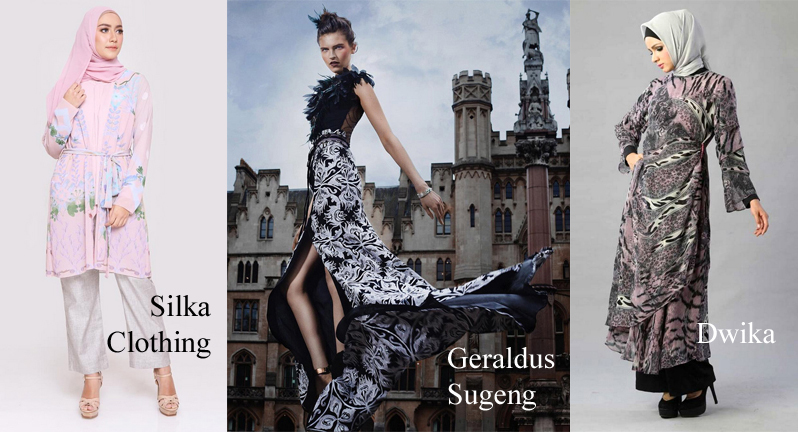 Wonderful Indonesia with KRIYA is pleased to partner with Couture Fashion Week New York in presenting the latest creations by 3 outstanding designers: Silka Mitrasari, Dwika and Geraldus Sugeng. Part of CFW's 26th season, the fashion show will be held at 6 pm on Friday September 8, 2017 in the Broadway Ballroom of the Crowne Plaza Times Square Manhattan, in the heart of the Big Apple.
GERALDUS SUGENG is a luxury ready-to-wear fashion brand founded in 2000 in Surabaya, Indonesia. Mr. Sugeng has shown his exceptional designs on the runway at many fashion events across Indonesia. His talent, hard work and passion have brought him great success. With a vision to advance the Indonesian Fashion Industry and a mission to help benefit his local community, Geraldus Sugeng's collections are innovative and impeccably crafted, with a wide appeal.
SILKA is Muslim fashion label by Indonesian designer Silka Mitrasari. The launch of the label marked the beginning of her career as a fashion designer in 2013. The beauty of flowers is the main feature of SILKA's designs. In promoting her fashion brand, Silka has been involved in multiple fashion shows, in Indonesia and overseas. In September 2016, she participated in a fashion show in New York City organized by the ASC New York Fashion Week. SILKA's designs have been well-received, not only in Indonesia, but also in other countries such as Malaysia and the United States.
Dwi Rahayu is a self-made businesswoman who started her own fashion business 20 years ago. She founded her own brand DWIKA, and early on specialized in the production of stylish uniforms for private sector and government institutions. She always chooses the best quality fabrics to use in her collection and Dwika's focus is on modest designs for Muslim women. Her business coverage has grown from regional to nationwide, and she is now poised to expand internationally. She has shown her designs on the runway at numerous fashion events since 2014, and currently operates several boutiques in Indonesia with a loyal and growing clientele.
About Kriya. It all started from the desire to help others. Kriya Indonesia was built on the foundation of assisting SME (Small and Medium Enterprise) partners to gain wider market access, crossing district borders, crossing sea borders and crossing international borders. SMEs are one of the main pillars of the Indonesian economy, creating jobs, maintaining economic stability, and bringing in foreign revenue. Kriya Indonesia is an e-commerce platform dedicated to fostering market growth for SMEs. With the concept of 'Everything You Need', Kriya Indonesia provides a platform for products in multiple industries: Fashion, Agriculture, Furniture and Handicrafts. Every item is unique, authentic and high-quality, and shopping on Kriya Indonesia is a memorable experience.
Click for tickets and more information.