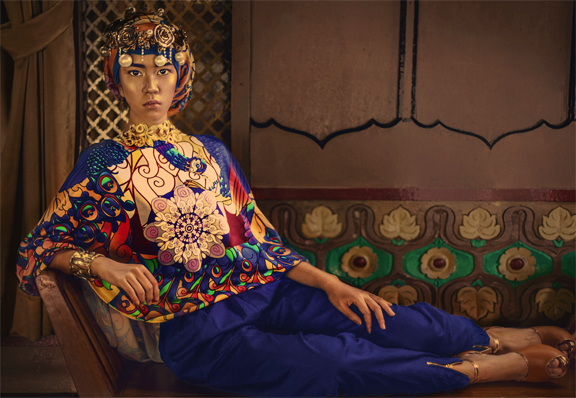 Indonesian designer Gitawidya Nurbidayah will present the latest collection for her Let's Travel Design brand during the 26th season of Couture Fashion Week New York. The runway show will be held at 6:00 pm on Saturday September 9, 2017 in the Broadway Ballroom of the Crowne Plaza Times Square Manhattan, at the "Crossroads of the World."
Let's Travel Design's latest collection is entitled "GAYA means STYLE." It features the style and the taste of modern modest fashion through a bright and intense color palette of blue, green, red and gold along with glamorous designs and ethnic Indonesian patterns. The collection is enhanced with embroidery, printing, stitching, and leather, and also includes beautiful handmade accessories such as  clutches and shoes fabricated by local craftspeople.
Gita launched her career in fashion in 2015 creating scarves and shawls. At the request of her growing clientele, she expanded her collections to include clothing. Let's Travel Design is characterized by its own unique style that is simple and comfortable, with bold patterns and colors.
Let's Travel Design fashions are available at its signature boutique in South Jakarta and at its boutique  at the Galeri Indonesia WOW, SMESCO Building in Jakarta. Gita's savvy marketing strategies include allowing her millennial clients, and others, easy access to her collections through social media such as her personal Facebook, Facebook Fanpage and Instagram (@letstravel_design).